Kodak Girl Guide Camera (UK Model)
Kodak Limited
| | |
| --- | --- |
| Name: | Girl Guide Kodak |
| Manufacturer: | Kodak Ltd |
| Country of Origin: | United Kingdom |
| Construction: | The Girl Guide Kodak is based on the Vest Pocket Kodak Model B shell but with blue crackle finish and black bellows and a metal enamelled faceplate showing the Girl Guide emblem. |
| Production Period: | 1921-35 |
Model / Variant:
UK Model
Plate / Film Size:
127 rollfilm
Lens:
Meniscus
Shutter:
V.P. Rotary
Movements:
None
Dimensions (w x h x l):
Date of this Example:
c1931
Serial Number:
Serial 99804 on lens surround. Camera itself is not serialised.
Availability:

Common
Uncommon
Hard to Find
Scarce

Inventory Number:
353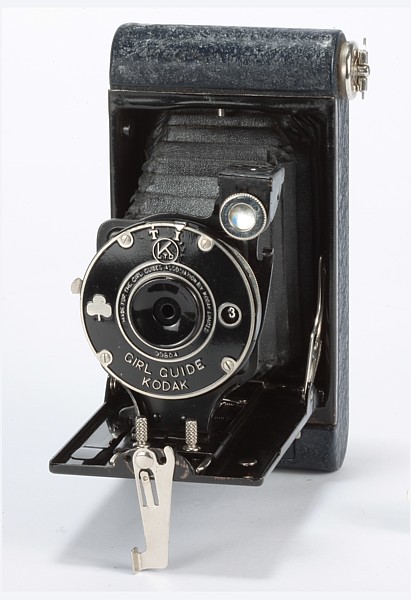 (Image © Amateur Photographer 2011, taken for an article by Ivor Matanle and reproduced with kind permission)
Description
Girl Guide Kodak with radial stripes and clover leaf Girl Guide emblem with matching leather case. This is quite different to the Girl Scout Kodak produced in the US. The US version has green leatherette covering as against the blue crackle finish used in the UK, has green bellows while the UK version has black and the metal edging is in matching green while on the UK model it is black enamel. The girl scout insignia is also quite different of course.
Original blue leather case, embossed with the Girl Guide symbol. Some minor edge wear, but sound.
The manual is missing from this example. The instruction booklet is shared by both UK models - "How to Take Pictures with the Boy Scout and Girl Guide Kodaks".
Notes
When looking for a good example, check the condition of the black enamelled metal edge work. This can often chip and will then rust, which can reduce its value and detract from its quality as a display item.
There is an equivalent UK Boy Scout camera. The picture below shows the Girl Guide and Boy Scout cameras side by side, along with their matching cases and instructions.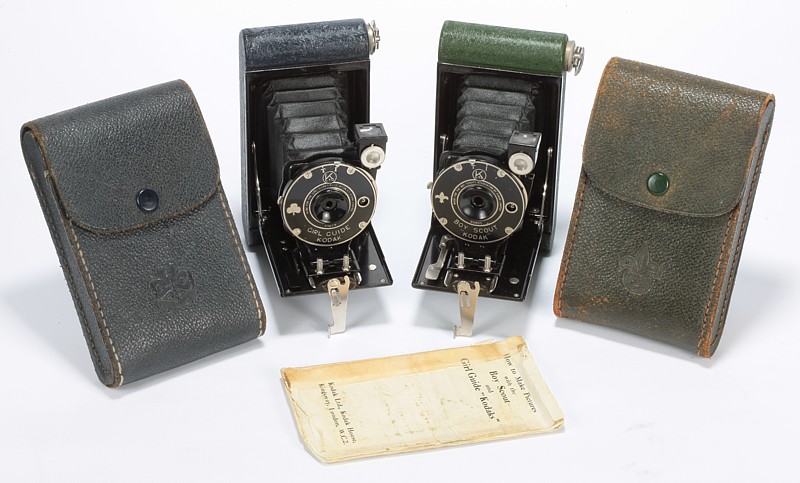 (Image © Amateur Photographer 2011, taken for an article by Ivor Matanle and reproduced with kind permission)