May Fair Folding Camera
Houghton-Butcher Manufacturing Co Ltd.
| | |
| --- | --- |
| Name: | May Fair Folding Camera |
| Type: | Folding Rollfilm Camera |
| Manufacturer: | Houghton-Butcher Manufacturing Co Ltd. (see text) |
| Country of Origin: | United Kingdom |
| Construction: | Pressed steel body in two parts forming the front and back sections. Black crackle finish. Distinctive chrome and black geometric patterned surround to lens. |
| Production Period: | Unknown |
Plate / Film Size:
3¼" x 2¼" rollfilm
Lens:
Unknown
Shutter:
T, B & I single speed shutter
Movements:
None
Dimensions (w x h x l):
8.5 x 16 x 3 cm
Date of this Example:
c1930
Serial Number:
1317 written in pencil inside back and on one spring
Availability:

Common
Uncommon
Hard to Find
Scarce

Inventory Number:
386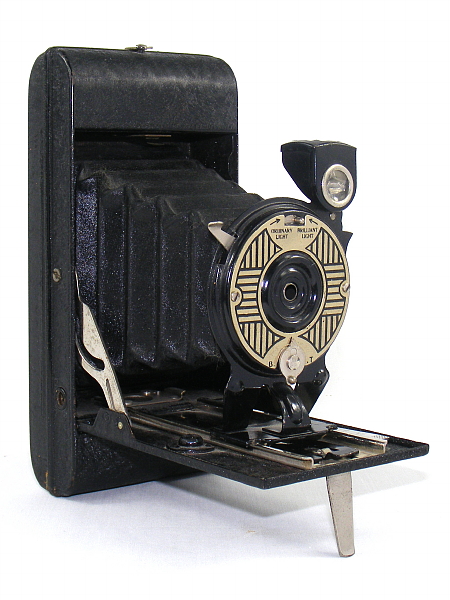 Description
This camera is marked as "The May Fair REGD Camera" on the inside of the baseboard. This is the basic version of the May Fair series of cameras and is rather cruder and more cheaply made, being of simple pressed steel construction. The only other marking is "Made in England" inside the back, which also carries a label declaring that it will take any 3¼" x 2¼" film.
There are a number of characteristics of this camera that indicate that this was also made by Houghton-Butcher. The pressed steel body is very similar to the Ensign Greyhound camera, though not identical. The tripod mount on the baseboard is very similar and the side struts that support the baseboard are identical. The tripod mount on the side of the camera and various raised detail on the inside of the body are also virtually identical.
Further research has confirmed that this camera is based upon the Houghton-Butcher Pocket Ensign 20 camera.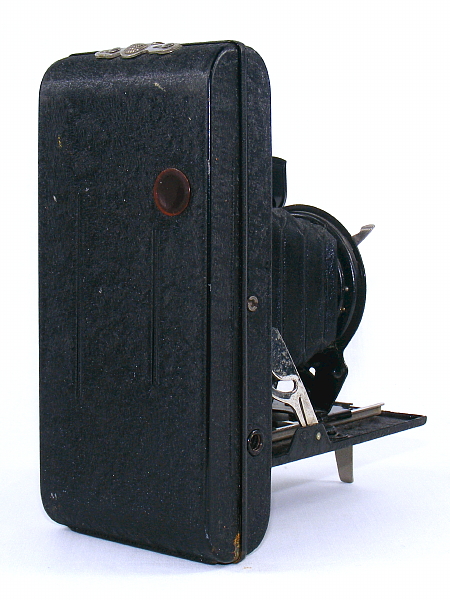 This May Fair folding camera is shown in the Ardath Tobacco Company gift catalogue as the lowest value of the three folding cameras. The other two examples shown are the May Fair camera with the 'eye' symbol on the face plate (the most common folding May Fair variant) and the unmarked Super May Fair model with better lens and shutter.
Notes
There are two May Fair cameras that turn up regularly: the May Fair Portrait box camera with crackle finish and the May Fair Folding camera with the 'eye' emblem on the lens surround. However, there are two other folding cameras that I know of (this one and the Super May Fair) as well as another box camera based upon the Houghton-Butcher E29 box camera.
I have seen very few examples of this camera. My guess is that people tended to go for the slightly better model (which is therefore quite common) rather than this quite basic version.
Further information about the group of cameras that were available through the Ardath Tobacco Company premium scheme and the premium scheme itself can be found on the page dedicated to the May Fair premium scheme.