May Fair Folding Camera
Houghton-Butcher Manufacturing Co Ltd.
| | |
| --- | --- |
| Name: | May Fair Folding Camera |
| Manufacturer: | Houghton-Butcher Manufacturing Co Ltd. |
| Country of Origin: | United Kingdom |
| Construction: | Metal bodied folding camera of conventional upright format, finished in black imitation leather on the sides but with a black 'crackle' paint finish on the inner face of the baseboard. |
| Production Period: | |
Plate / Film Size:
Ensign E20 rollfilm (3¼" x 2¼")
Lens:
Novo-Ray Objective Lens
Shutter:
Simple three-speed shutter
Movements:
None
Dimensions (w x h x l):
Date of this Example:
c1932
Serial Number:
None
Availability:

Common
Uncommon
Hard to Find
Scarce

Inventory Number:
244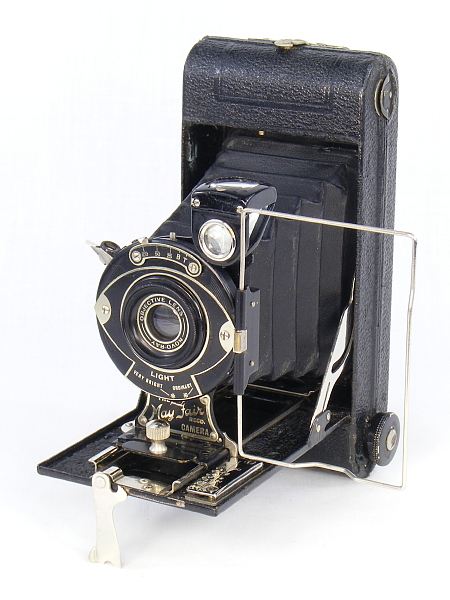 Description
May Fair folding Camera, not always attributed to Houghton-Butcher, but clearly marked on the reverse of the camera body and acknowledged as the constructor within the instruction manual, which also covers the standard (portrait) box camera.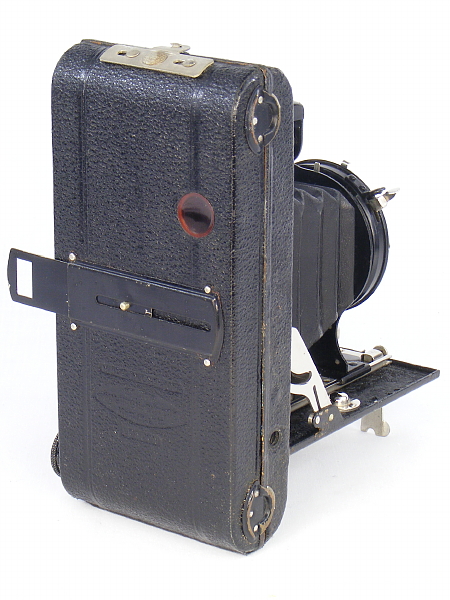 Body is leather covered, but inside the lens board shows the crackle finish used on the May Fair box camera. The Ensign film label inside the back carries a handwritten date of 25.7.32.
The camera has an attractive faceplate design around the lens, based upon a stylised eye.
The dated instructions (17 October 1931) came with another example of this camera, and are clearly labelled "Ardath Tobacco Co Ltd, London".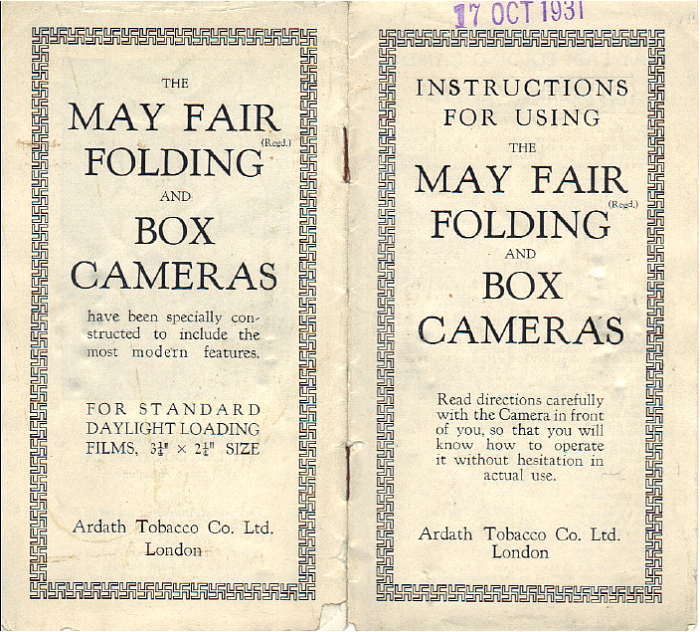 It is known that "May Fair" was a cigarette brand name, marketed by Ardath, and this camera was given away as a premium item in return for cigarette coupons. The May Fair name is marked as a Trademark on the cover of the instructions and on the label on the camera itself. This May Fair variant is shown in several of the Ardath premium gift catalogues that I have, which date to the early 1930s.
Notes
There are two other May Fair folding cameras, both of which are much less common than this version. However neither are marked with a manufacturer name, but have characteristics that indicate beyond reasonable doubt that they were also made by Houghton-Butcher. There is a very basic model that again is simply labelled as the May Fair camera, plus a higher specification model that is badged as the Super May Fair.
Further information about the group of cameras that were available through the Ardath Tobacco Company premium scheme and the premium scheme itself can be found on the page dedicated to the May Fair premium scheme.