Ensign Greyhound Camera
Houghton-Butcher Manufacturing Co Ltd.
| | |
| --- | --- |
| Name: | Ensign Greyhound |
| Type: | Folding Rollfilm Camera |
| Manufacturer: | Houghton-Butcher Ltd |
| Country of Origin: | United Kingdom |
| Construction: | Standard rollfilm camera constructed from pressed steel and finished in a distinctive grey crackle finish. |
| Production Period: | Unknown |
| Plate / Film Size: | 2¼B (120) rollfilm |
| Lens: | HBM Peri Lens |
| Shutter: | HBM Synchro A (T, B, I settings) |
| Movements: | None |
The Ensign Greyhound is a simple folding camera made of pressed steel and finished in a grey crackle finish on the outside faces and inside face of the lens board. The shutter faceplate is also finished in grey. The name of the camera is identified on a plate on the lower part of the lens standard and features a stylised image of a running greyhound.
The Greyhound is based on the All Distance Pocket Ensign.
My research has shown that the Ensign Greyhound camera was distributed through at least one premium scheme. Refer to the Notes for further information.
Date of this Example:
c1930
Serial Number:
None
Availability:

Common
Uncommon
Hard to Find
Scarce

Inventory Number:
570
ClicPic Photos copyright © 2012 David Purcell. Do not use without permission.
Click small picture to enlarge. ClicPic Gallery Software.
Description
This example of the Ensign Greyhound camera is in excellent condition and is complete with its original box, and paperwork.
The instruction sheet is present (folded) and in excellent condition. In addition there is another sheet "Hints and wants for your 'Greyhound' Ensign Camera", which is about A5 sized (but folded in three in the box) and unfolds to something a bit smaller than A3.
A film label for 2¼B Ensign Speedy Film is fixed inside the back (finished in grey paper). The film spools holders carry patent number 281802 (Hinged spool retaining spindle) that, according to the Early Photography site, was taken out in 1926.
The outside of the camera is very good condition with little sign of wear or corrosion; even with this fine example, the outside colour looks more green than grey.
This fine example is complete with its original box. This has a few stains to the top face of the lid, but otherwise is in remarkably good condition. Apparently it had been stored away in an attic for many years as the original owner was described as a horder.
~ # ~ # ~
Date of this Example:
c1930
Serial Number:
None
Availability:

Common
Uncommon
Hard to Find
Scarce

Inventory Number:
591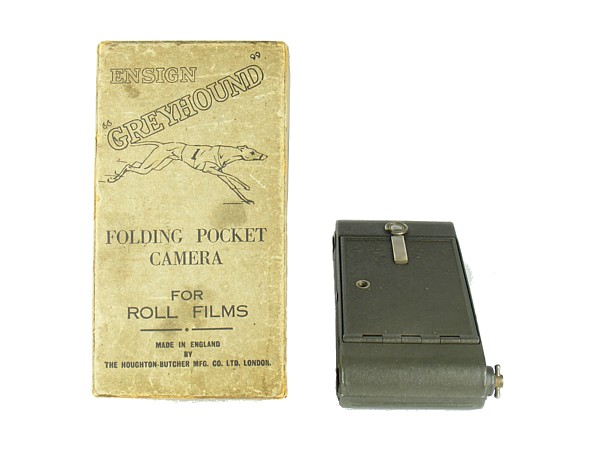 Description
This fine example of the Ensign Greyhound camera is also complete with its original box. The box is quite worn and faded with edge and corner damage. The box is of a lighter base colour than the other example (cf #570); it is difficult to tell if this is due to fading and wear or whether indeed it was finished in a slightly different base colour.
The photograph below shows the two boxes side-by-side. While the lighter colouring suggests that this box has perhaps faded, of the four boxed examples I have seen to date, three matched the lighter form on the left.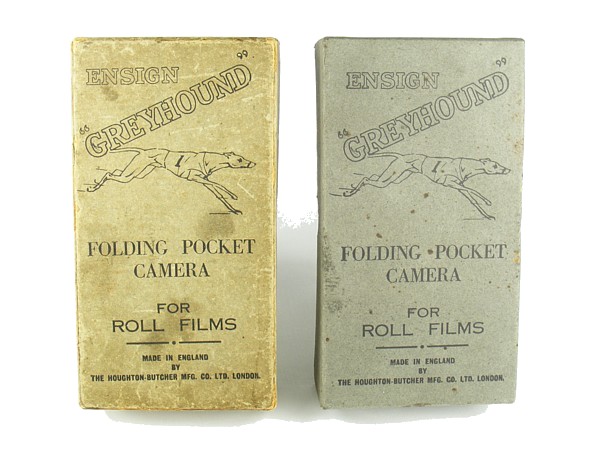 Notes
The information presented below formed the basis of an article that appeared in Photographica World (PW No 152, 2016), the journal of the Photographic Collectors Club of Great Britain.
The Ensign Greyhound camera has presented a mystery to collectors as it has been unclear whether the camera was a sales item or a premium camera. I have spoken to a number of collectors with an interest in Houghton-Butcher cameras over the years and various possible theories have been suggested, but there has been a distinct lack of evidence to answer this question.
A side-by-side comparison of the Ensign Greyhound with an All Distance Pocket Ensign shows how close the two cameras are in terms of the way they are fabricated and the fittings that are used. The All Distance Pocket Ensign camera was a standard commercial item that appeared in Houghton-butcher adverts and catalogues.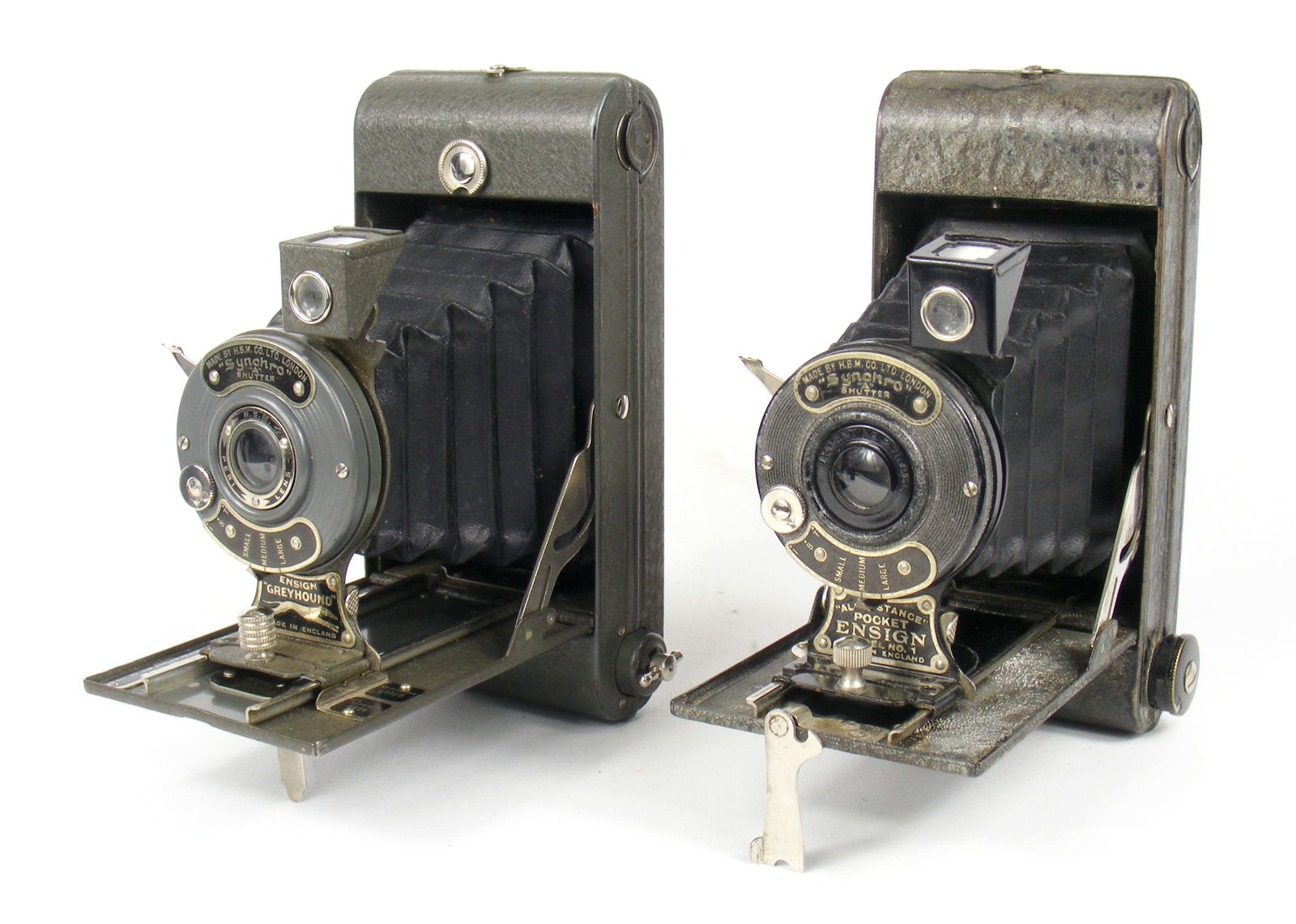 I am not aware of any published evidence that confirms one way or the other that the Ensign Greyhound was either a sales item or a premium camera. Premium items were made available in return for coupons that were distributed with particular products. A number of such schemes were associated with tobacco companies. For an example of a set of premium cameras produced by the same maker for the Ardath Tobacco Company, refer to the page dedicated to the May Fair cameras.
None of the collectors I have been in contact with have found the Greyhound camera listed in any Houghton-Butcher catalogues or advertisements. Equally no-one I have spoken to has found any reference to the camera in any premium scheme catalogue either.
The fact that examples turn up periodically that are boxed hints at the possibility that they were intended for sales display. However none of the examples I have examined have ever shown any price markings and none of the accompanying paperwork I have seen has included any form of sales labelling. Equally, none of the cameras I have seen have had any form of shipping packaging with them, unlike other premium cameras in my collection such as the Rajar No 6, Kodak No 2 Hawkette or Hawkeye Ace.
The paperwork that has been seen with the Ensign Greyhound is identical in format and has very similar content to that included with other Houghton-Butcher cameras that were available through premium schemes. The most complete example I have in my collection has a folded instruction sheet (double sided) and a much larger fold out sheet entitled "Hints and wants for your Greyhound Ensign camera". The instructions carry no hint as to the source of the camera. The orange fronted "Hints and wants" brochure has very similar content to another that came with a "J-B" Ensign box camera, although the accessories listed are slightly different to suit the camera type (different cases for example) and the cameras shown as future upgrades also differ. Again, the inclusion of this brochure suggests that the Ensign Greyhound could also be a premium camera, but is not in itself conclusive evidence.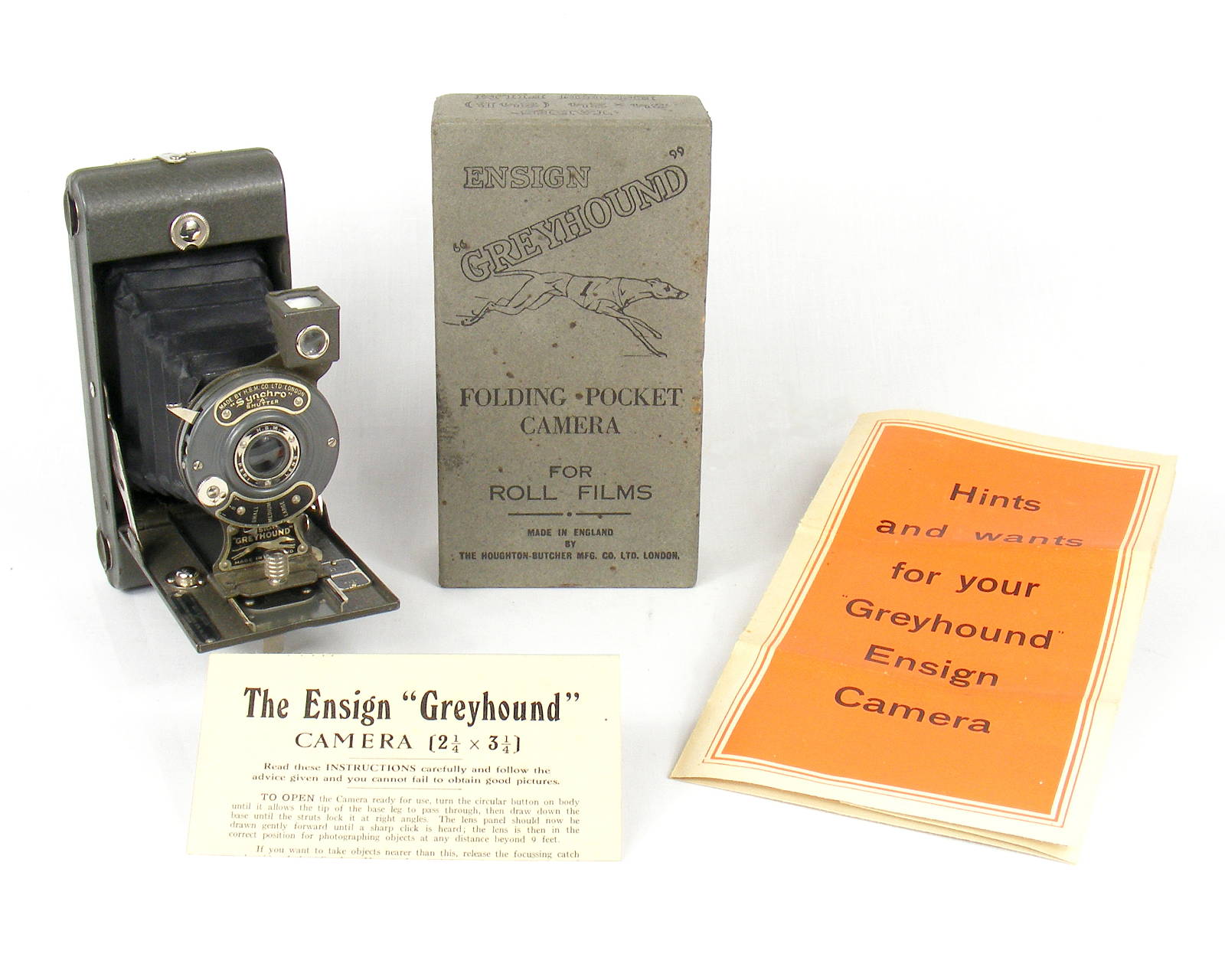 In discussing this question with other collectors it had even been suggested that the camera had some direct relationship to the Walthamstow Stadium, a greyhound racing track that was opened in 1933 by William Chandler. The stadium was located in the London Borough of Waltham Forest in East London, relatively close to the Ensign factory that was there at the time. The Stadium finally closed in 2008, but if you search on the web for images you will see that a Greyhound in profile forms a key part of the stadium sign. After I was first made aware of this idea, I contacted a number of people selling the camera on eBay, but could find no connection with the Stadium; indeed many of the original camera owners had never lived in London and none that I contacted were known to have any interest in greyhound racing. However that does not remove the distinct possibility that the Walthamstow Stadium might have inspired the choice of name and the design used for the label on the camera and the box front.
With a background interest in premium cameras in general, I run occasional searches for premium catalogues and related items. By chance, one such search identified a premium scheme gift catalogue with a clear picture of the Ensign Greyhound camera. I put what I thought was a high bid on the catalogue with every expectation of winning the item, only to be outbid by a very substantial amount by two other bidders, neither of whom appeared to have any interest in cameras. While disappointing, at least I knew what to look for and could fine tune my search accordingly. That was back in early 2013, and I did not encounter another copy until late 2015.
On the way however, I did find another piece of supporting evidence in the form of a coupon or "certificate" for the same cigarette brand. This lists the Ensign Greyhound camera, highlighted in red on the original for some unknown reason. The precise date of this coupon is not known. The actual size of the coupon is approximately 7 by 4 cm.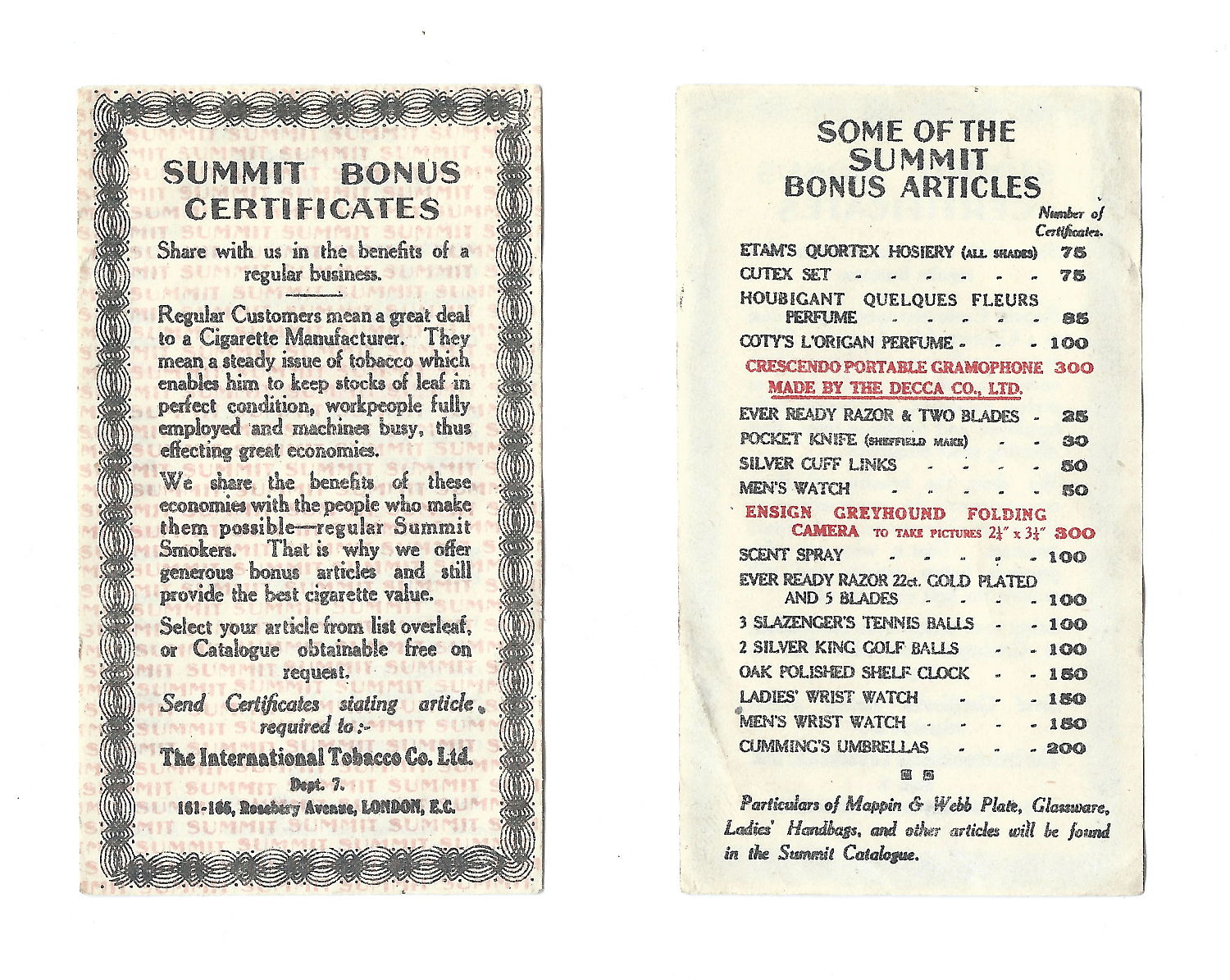 The evidence found shows that the Ensign Greyhound camera was made available as a premium item through a scheme run by Summit cigarettes, a brand produced by the International Tobacco Company Ltd.
Finally after a lengthy search for a Summit gift catalogue I was fortunate enough to find another, which lists the Ensign Greyhound. The catalogue is clearly dated October 1st, 1931 on the cover and consists of 48 pages covering a wide variety of gifts such as clocks and watches, toys, sports equipment, fountain pens, cutlery and a great many other household items.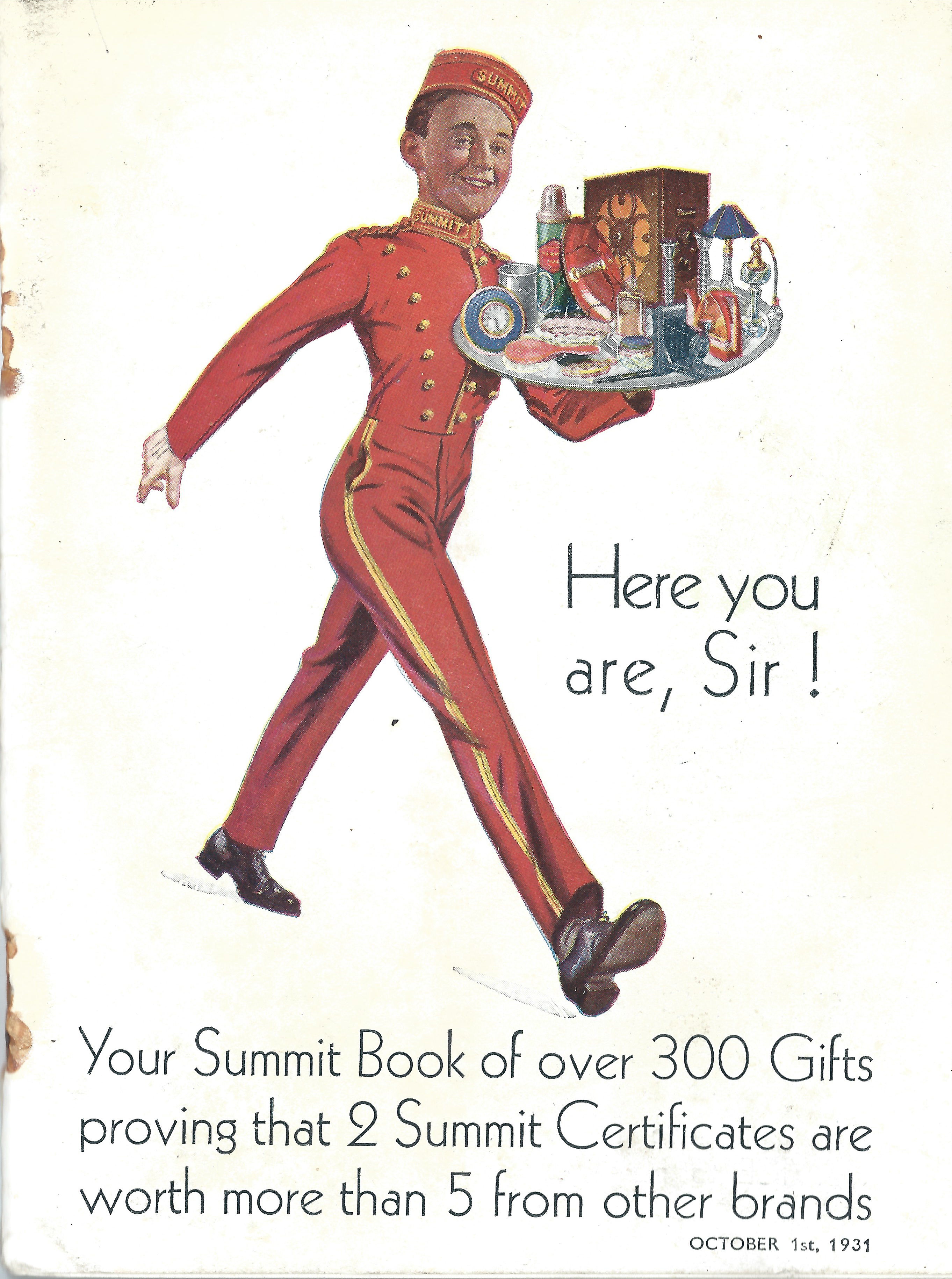 The actual size of the booklet is approximately 15.5 by 11.5 cm. It came with an original covering letter and a single sheet application form to be used to redeem certificates for a "bonus award". The letter makes it clear that this was not the first such catalogue they had produced.
The catalogue ("Summit Book") that I acquired is not as high quality as the first one I saw where much of the content was reproduced on high quality gloss paper, with the camera shown as a full page entry in colour.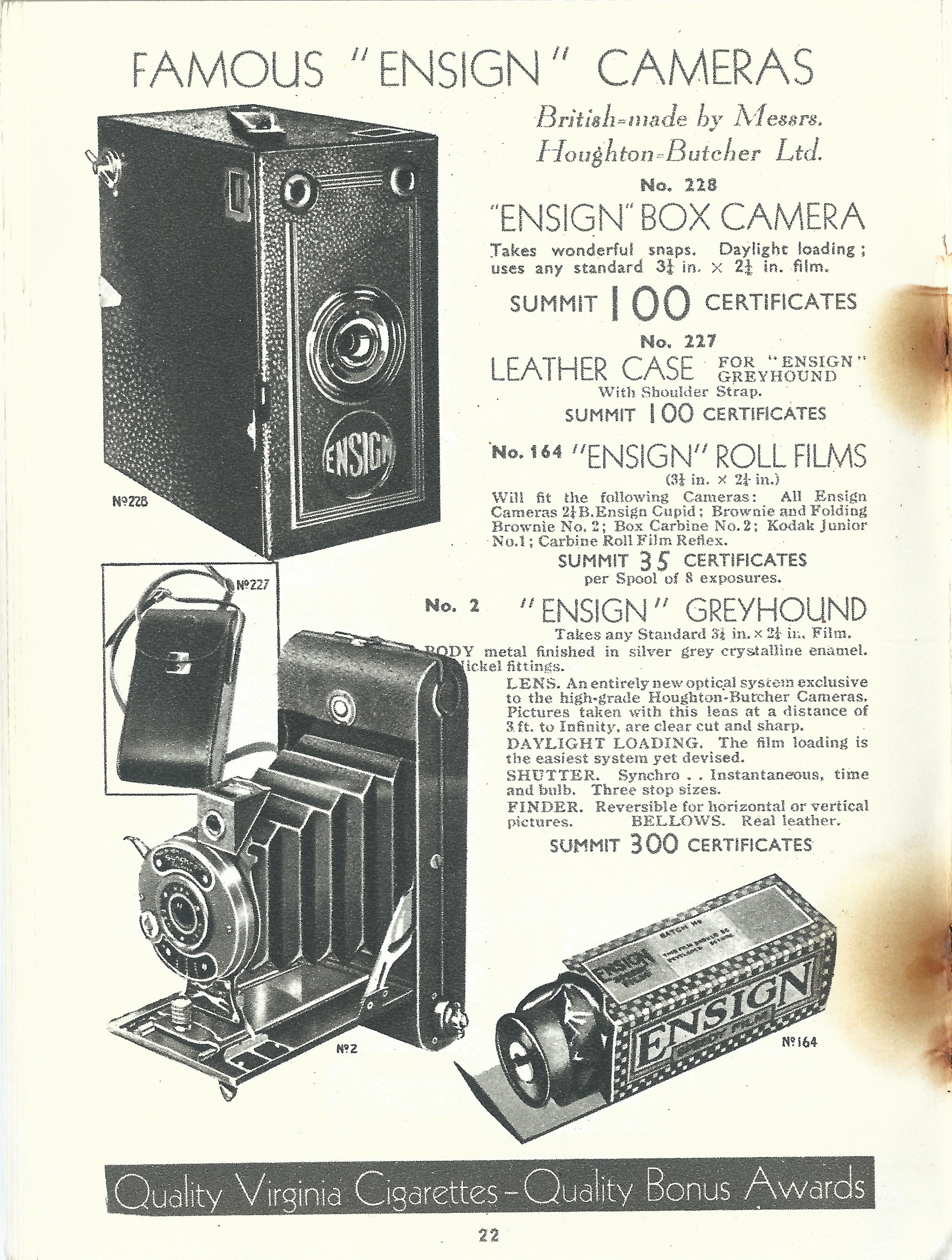 An obvious question to try and answer is over what period the camera was available through the Summit scheme.
The date at which the Ensign Greyhound camera would have ceased to be available through the premium scheme can be established with certainty, but the date at which the camera first became available is more difficult to pin down.
In the period from the mid-1920s through to the early 1930s, there were a significant number of premium schemes that were being run by cigarette companies in the UK, such as Ardath Tobacco Company (Ardath Cork Tipped), Carreras (Black Cat), Gallahers (Park Drive), Godfrey Phillips (B.D.V) and International Tobacco Company (Summit). Godfrey Phillips and Carreras were early adopters of coupon trading schemes from about 1925 as part of their marketing, and such schemes were an important element of their strategy to compete with other established brands, along with price cutting. The Rajar No 6 folding camera was made available through the scheme run by Godfrey Phillips for the B.D.V brand of cigarettes. In some cases coupon schemes were associated with cigarette brands introduced at lower competitive prices and arguably of lower quality. Coupon schemes were also intended to encourage brand loyalty since it was necessary for customers to collect significant numbers of coupons, and therefore purchase many packets of cigarettes or tobacco, in order to have enough to redeem for goods advertised in the gift catalogues. As shown on the coupon, a total of 300 coupons was needed to obtain the Ensign Greyhound camera.
In 1925, coupon brands accounted for just 4% of sales, but by 1930 this had increased to 16% and such schemes were apparently having a much more marked impact on competition than pricing alone ([15] Alford, 1973, p360). Coupon schemes expanded significantly in the period from 1930 to 1933, to the extent that by 1933 they accounted for one third of UK cigarette sales by number ([15] Alford, 1973, p365).
These coupon schemes were very expensive to run. Over time, more and more gifts were offered, incurring significant procurement costs and introducing ever greater overheads for each of the companies to manage the distribution of the gifts. Some companies such as Ardath even had showrooms where customers could visit to view and select gifts in exchange for their coupons as an alternative to choosing an item from a catalogue and sending in their coupons by post.
Coupon schemes were becoming so dominant in the early 1930s that there was increasing pressure to prohibit them, including an unsuccessful private members bill in parliament in 1932, and a subsequent Board of Trade inquiry in 1933. Imperial Tobacco Company, the largest manufacturer at the time, argued strongly in favour of coupon trading schemes being prohibited at the Board of Trade inquiry, but apparently the Committee were not prepared to make such a recommendation. However Imperial went on to pursue this further, knowing that the significant cost of running the schemes was eating into the profit margins of their competitors, not least as Imperial had introduced their own aggressive coupon scheme with the Four Aces brand made by W.D. & H.O. Wills (a branch of Imperial).
It is worth illustrating the extent of the organisation and costs involved in running these premium schemes. During the year that Wills introduced the Four Aces coupon brand, they are reported as having issued in excess of 300 million coupons (or vouchers as they called them), of which 90 per cent were redeemed, corresponding to approximately 3 million gifts. The operation itself required a staff of 250 to 300 clerks, 60 despatch workers and 8 ordering clerks ([15] Alford, 1973, p368).
In October 1933, agreement was reached between Imperial Tobacco and the six next largest manufacturers (Carreras, Gallaher, International Tobacco Company, Godfrey Phillips, Ardath & Co., and J. Wix & Sons), to end coupon trading at the end of that year. This decision was announced by the Tobacco Trades Association, the body representing tobacco manufacturers and distributors, and appeared in the press on November 1, 1933 ([16] The Times, 1933). The announcement lists a large number of brands affected by this agreement, including Summit cigarettes.
So we can be confident that the end date of the Summit premium scheme was December 1933, although coupons are likely to have been honoured for at least a few months into 1934. However, the start date is difficult to pin down with any certainty, based on the limited material I have been able to track down thus far. We know for certain that the scheme was well established, and offering the Ensign Greyhound camera, in October 1931 as that is the date on the catalogue. We have already seen that many such coupon schemes were becoming increasingly prevalent by 1930, and it seems likely that the Summit scheme was one of that number. My best guess would be that the Summit scheme started in about 1929.
Another factor to consider is the quantity of Ensign Greyhound cameras that were produced. While it is not possible to identify an actual number, it is clear that they remain quite common today, turning up regularly on eBay.
The Summit scheme promoted the fact that it offered good value as shown by the statement on the front cover that ". 2 Summit Certificates are worth more than 5 from other brands". The Ensign Greyhound camera required an exchange of 300 coupons (certificates). If we compare this to the Ardath scheme, the most common of the May Fair cameras fitted with the Novo-Ray lens required an exchange of 395 coupons. A Black Cat catalogue (Carreras) of the same era requires an exchange of 900 coupons for the No 2 Folding Cartridge Hawkeye made by Kodak. The Ensign Greyhound therefore does seem to offer good exchange value relative to cameras available through other schemes. However if other gifts offered by Summit were also equally good value, then arguably this is unlikely to be a major factor unless it was fairly common for several different coupon brands to be smoked within the same household.
Another factor to consider is that the items in the catalogue are numbered and it seems reasonable to assume the number assigned reflects the order in which each was introduced. The original covering letter that came with the catalogue provides evidence for this in that it and identifies a small number of recent additions to the gift range numbered 417 through 423. The Ensign Greyhound camera is shown as item number 2 in the catalogue, and that suggests that it is likely to have been available from the start of the Summit premium scheme. On that basis, the camera would have been available over a number of years, possibly as long as 4 to 5 years if my guess at the start date of the Summit scheme is roughly correct. Some of the May Fair cameras were only introduced to the Ardath premium scheme in 1933 and were therefore only available for a few months before the schemes were closed, and consequently are much harder to find.
However I am not convinced that either of these factors is sufficient to account for the frequency with which the Ensign Greyhound camera turns up today.
The only paperwork that I have ever seen with the camera is "generic" - it does not identify the premium scheme by name. It seems entirely possible therefore that the Ensign Greyhound camera may have been available through one or more other such schemes in the same period rather than being supplied exclusively for the Summit brand, but as yet I have no documentary evidence to support this theory. The Ensign box camera that is listed in the Summit catalogue is also thought to have been available through several premium schemes.