Triple Imperial Camera
Thornton-Pickard Manufacturing Company Ltd
| | |
| --- | --- |
| Name: | Triple Imperial |
| Type: | Field Camera |
| Manufacturer: | Thornton-Pickard Manufacturing Company Ltd, Altringham |
| Country of Origin: | United Kingdom |
| Construction: | Mahogany and brass field camera with triple extension bellows (hence its name). Double rack and pinion focus. Adjustments on front and back (tilt, rising and cross front etc). Integrated turntable in base. |
| Production Period: | 1904 - 1939 |
Plate / Film Size:
½ plate
Lens:
Aldis Anastigmat F6
Shutter:
Time & Instant Roller Blind shutter
Movements:
Rising and cross front with tilt; tilting back with limited swing. Reversing back.
Dimensions (w x h x l):
Date of this Example:
c1913
Serial Number:
No obvious serial on camera body.
Availability:

Common
Uncommon
Hard to Find
Scarce

Inventory Number:
28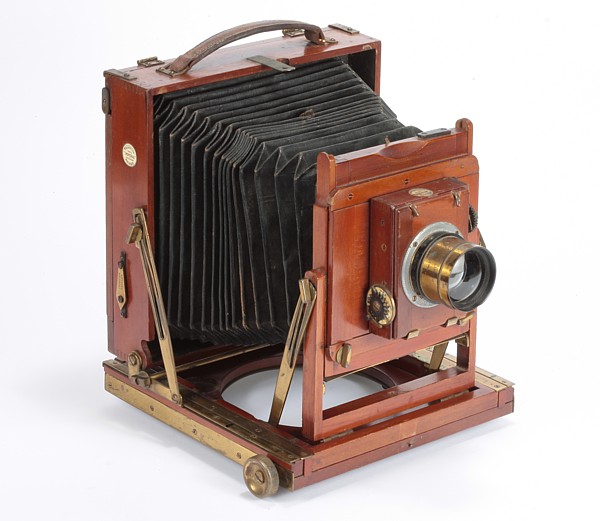 (Image >© Amateur Photographer 2010, taken for an article by Ivor Matanle and reproduced with kind permission)
Description
The Triple Imperial is a mahogany and brass field camera, that is quite typical of field cameras produced at the start of the last century. It was produced in large numbers over an extended period.
The ground glass screen is missing. The camera came with two double dark slides, which appear to be original. Each is numbered and carries the Thornton-Pickard name plate.
This camera had been with the previous owner for at least 30 years - he had used it as a teenager.
Notes
This camera was one of several Thornton Pickard cameras pictured in an article written by Ivor Matanle for Amateur Photographer (17 April 2010) as part of an occasional series entitled "Icons of Photography". The main camera featured in the article was the Royal Ruby.