Royal Ruby Camera
Thornton-Pickard Manufacturing Company Ltd
Name:
Royal Ruby
Type:
Field Camera
Manufacturer:
Thornton-Pickard Manufacturing Company Ltd, Altringham
Country of Origin:
United Kingdom
Construction:
High quality mahogany and brass field camera with triple extension bellows and a wide range of adjustments (tilt, swing etc). Double rack and pinion focus. Integrated turntable in base (marked with Registered Design 406075).
The camera was available in a number of sizes from ¼ plate through to whole plate.
A significant design change was made in 1907 utilising the Omniflex front support (see also the Folding Ruby), allowing greater movement of the front standard. The example shown here is the earlier pattern.
Production Period:
1902 - 1939
Plate / Film Size:
¼ plate
Lens:
Voigtlander, Collinear III, 18cm f6.8 DRP 88505 No 81627
Shutter:
Time & Instant Roller Blind shutter (serial 7477)
Movements:
Rising and cross front with tilt; tilting back with swing. Reversing back.
Dimensions (w x h x l):
Date of this Example:
c1907
Serial Number:
Camera body carries the serial 4185 on the bottom edge, stamped into the wood.
Availability:

Common
Uncommon
Hard to Find
Scarce

Inventory Number:
140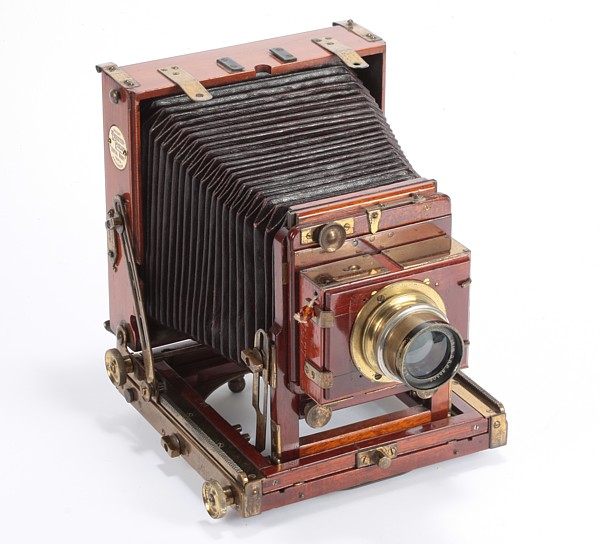 (Image >© Amateur Photographer 2010, taken for an article by Ivor Matanle and reproduced with kind permission)
Description
The Royal Ruby is Thornton-Pickard's top of the range field camera. It is a high quality mahogany and brass field camera, that was a development of the earlier Ruby model but with extra features. It is very flexible offering many different movements (swing and title, rising and cross front etc) as well as the ability to bring the rear frame forward, close to the front, in order to allow wide angle lenses to be used.
The name and maker of the camera is identified on a large circular disk on the side of the camera body.
This example has black tapered bellows with chamfered corners. The ground glass screen is missing on this example (replacement to be found or made).
The Voigtlander lens may not be original to the camera; from lens data available, its serial number suggests a date of about 1905. The camera itself is believed to date to about 1907.
Notes
This camera was featured in an article written by Ivor Matanle for Amateur Photographer (17 April 2010) as part of an occasional series entitled "Icons of Photography".