Tourist Automan Camera
Thornton-Pickard Manufacturing Company Ltd
| | |
| --- | --- |
| Name: | Tourist Automan |
| Type: | Hand & Stand Camera |
| Manufacturer: | Thornton-Pickard Manufacturing Company Ltd, Altringham |
| Country of Origin: | United Kingdom |
| Construction: | Mahogany bodied, black leatherette covered hand and stand camera with red diagonal cut bellows. It has a self-erecting lens standard and appears to be identical in construction to the Nimrod Automan. |
| Production Period: | 1906 (TBC) |
Plate / Film Size:
¼ plate
Lens:
Beck Symmetrical
Shutter:
Thornton-Pickard Panoptic Shutter
Movements:
Rising front. Swing and tilt back. Reversing back.
Dimensions (w x h x l):
Date of this Example:
c1906
Serial Number:
None
Availability:

Common
Uncommon
Hard to Find
Scarce

Inventory Number:
348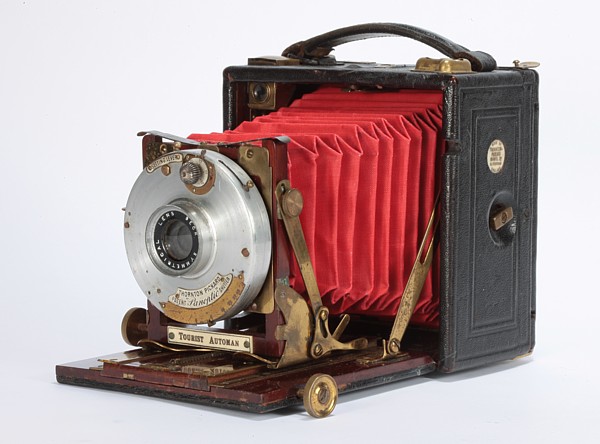 (Image © Amateur Photographer 2010, taken for an article by Ivor Matanle and reproduced with kind permission)
Description
The Tourist Automan is a Hand & Stand folding camera, in this case for ¼ plate. McKeown lists the Automan as a general title and then identifies two variants: Nimrod and Oxford. The camera is named explicitly on a plate below the lens standard.
The Tourist Automan camera has a range of movements on front and rear. It has a polished mahogany interior and leather covered exterior. I am sure it should have red leather bellows - this one has bright red fabric bellows, which are a 'so-so' DIY replacement. The camera has rear tilt movements but these were seized when received. It transpired that the mechanism was stuck together with adhesive that had spilled out from the bellows replacement! This has now been resolved, and the back will now move as intended.
The camera has an interesting built in bright viewfinder, and is generally in good order. It came with an original canvas case and 4 DDS. The ground glass screen intact.
The leather and brasswork is generally in good order.
The shutter still works. Move the 'setting lever' over to fire at the preset speed. To adjust the speed turn the dial, but once at 100 setting, it needs to be (carefully) reset by pushing the tiny lever that is radial to the speed dial to be able to select lower speeds or 'T' setting. The other right hand shutter lever opens the lens for focussing.
Notes
This particular example was bought in New Zealand. The only other example that I have been able to trace was also sold in New Zealand. This, combined with the name of the camera, makes me wonder whether this was a special export model of the Nimrod Automan camera. It may also be that there was a name conflict with an existing camera that was available "down under" at that time, requiring the name to be changed.
The camera specification matches that of the No 4 Nimrod Automan as it has the Panoptic shutter and full movements to the rear (tilt and swing).