Nimrod Automan Camera
Thornton-Pickard Manufacturing Company Ltd
| | |
| --- | --- |
| Name: | Nimrod Automan |
| Type: | Hand & Stand Camera |
| Manufacturer: | Thornton-Pickard Manufacturing Company Ltd, Altringham |
| Country of Origin: | United Kingdom |
| Construction: | Mahogany bodied, black leatherette covered hand and stand camera with red diagonal cut bellows. It has a self-erecting lens standard - the first camera to do so. The Nimrod Automan is somewhat simpler in construction than the Folding Ruby and was quite a lot cheaper to buy. It replaced the Oxford Automan. |
| Production Period: | 1907 - 1912 |
Model / Variant:
Model No 2
Plate / Film Size:
5 x 4 plate
Lens:
Beck Symmetrical
Shutter:
Thornton-Pickard Panoptic Shutter
Movements:
Rising front. Reversing back.
Dimensions (w x h x l):
Date of this Example:
c1910
Serial Number:
'1309' marked on shutter face above the name plate. '114' stamped into the wood inside the bottom face.
Availability:

Common
Uncommon
Hard to Find
Scarce

Inventory Number:
434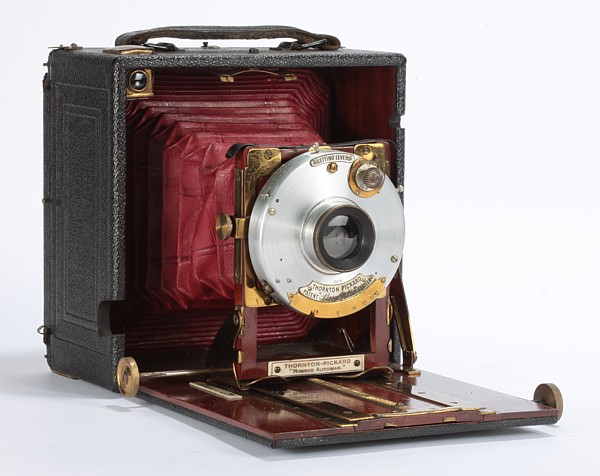 (Image © Amateur Photographer 2010, taken for an article by Ivor Matanle and reproduced with kind permission)
Description
The Nimrod Automan No 2 is a Hand & Stand folding camera, in this case for 5 x 4 plate. McKeown [1] lists the Automan as a general title and then identifies two variants: Nimrod and Oxford. The camera is named explicitly on a plate below the lens standard.
The Nimrod Automan camera has a range of movements on front and rear. The plate holder can be rotated. The camera has a polished mahogany interior and leather covered exterior. It has maroon leather double extension bellows, which are in very good condition, although there is a slight misfold on the right hand side.
The camera has an interesting built in bright viewfinder, and is in good order. It came with an original leather case and 2 DDS. The ground glass screen intact.
The leather and brasswork is generally in good order.
The shutter on this example is not operational. The 'setting lever' should move over to fire at the preset speed, but is frozen in its current position. To adjust the speed turn the dial, but once at 100 setting, it needs to be (carefully) reset by pushing the tiny lever that is radial to the speed dial to be able to select lower speeds or 'T' setting. This works ok. The other shutter lever on the right opens the lens for focussing, but this is just floating free, suggesting that the internal mechanism is broken.
Notes
The camera was introduced in 1907. According to the self-published book by Tom Holliday on Thornton-Pickard Cameras & Equipment [9], there were four models initially, as follows:
The No 1 Nimrod Automan has the same general format as the camera shown here, but has only single extension with a rack and pinion acting on the lens standard only.
The No 2 Nimrod Automan has double extension bellows and a second rack and pinion mounted on the left side of the lens board acting one the central slide. A further cut out is needed in the body to allow the camera to fold without fouling the additional pinion.
The No 3 Nimrod Automan is identical to the No 2, but is covered in real leather rather than leatherette.
The No 4 Nimrod Automan has a swing back and both shorter and longer extension is possible as a result of the revised design.
Lenses and shutters vary across the models and also across the production period.
The advert for the Nimrod in the 1912 BJPA only lists three models with the features allocated in Tom's breakdown against the No 4 being attributed to the No 3 (De Luxe) model. The number of available models was reduced to three soon after its introduction, with the No 3 model inheriting the features of the No 4.
See also the Tourist Automan camera, which is almost certainly a re-badged Nimrod Automan No 4, and the Focal Plane Automan.