Ruby De Luxe SLR Camera
Thornton-Pickard Manufacturing Company Ltd
| | |
| --- | --- |
| Name: | Ruby De Luxe SLR Camera |
| Type: | Single Lens Reflex Camera |
| Manufacturer: | Thornton-Pickard Manufacturing Company Ltd, Altringham |
| Country of Origin: | United Kingdom |
| Construction: | Wooden bodied SLR camera, covered in black leather. Black leather folding hood, black painted brass fittings. Reflex viewing through the taking lens; lens standard extends by rack and pinion. Black leather bellows. Lens is mounted in a removable lens box. |
| Production Period: | 1923 - 1939 |
Plate / Film Size:
¼ plate
Lens:
Taylor Hobson Cooke Aviar Anastigmatic 6 inch series II f/4.5
Shutter:
Focal plane shutter 1 - 1/1000 sec
Movements:
None
Dimensions (w x h x l):
Date of this Example:
c1925
Serial Number:
TBD
The serial should be stamped on the inside shutter frame - set the shutter to T and remove the back to locate the number. There may be two numbers. Tom Holliday [9] reports that the higher number is likely to be the serial number.
Availability:

Common
Uncommon
Hard to Find
Scarce

Inventory Number:
40
>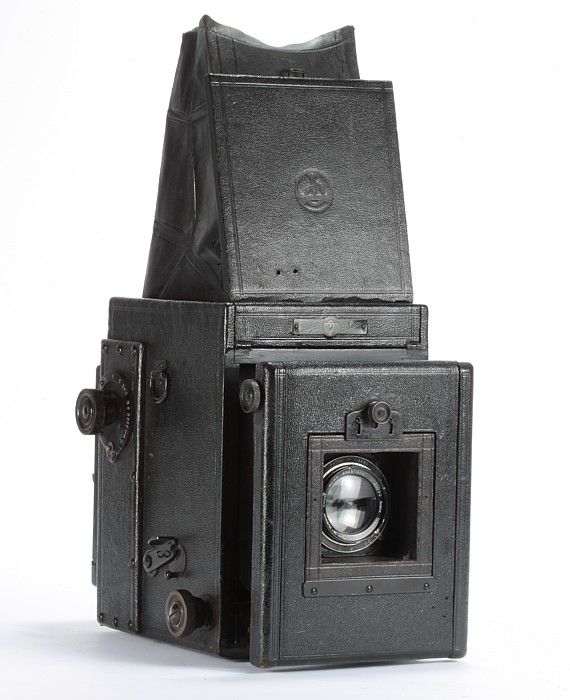 (Image © Amateur Photographer 2010, taken for an article by Ivor Matanle and reproduced with kind permission)
Description
The Ruby De Luxe SLR camera is a fairly conventional single lens reflex camera. The De Luxe was introduced in 1923 but in reality was just a continuation of the final model of the Ruby Reflex SLR camera.
This example came in an original canvas case, though in poor condition. The camera itself has signs of wear, but is generally in good condition.
Notes
The edges and corners on these cameras may show wear, but the most usual point of wear is the folding hood where the folds and/or the top edges can be damaged.
Some SLR models are more common than others. The easiest to find is the Junior Special Ruby Reflex, introduced in 1924.
This camera was one of several Thornton Pickard cameras pictured in an article written by Ivor Matanle for Amateur Photographer (17 April 2010) as part of an occasional series entitled "Icons of Photography". The main camera featured in the article was the Royal Ruby field camera.