Puck Camera
Thornton-Pickard Manufacturing Company Ltd
Name:
Puck Camera
Type:
Box Rollfilm Camera
Manufacturer:
Thornton-Pickard Manufacturing Company Ltd, Altringham
Country of Origin:
United Kingdom
Construction:
Wooden bodied box camera with side opening to load the film, covered in faux crocodile finish leatherette. Twin finders, black painted brass fittings.
The early version has the hinge at the rear corner with the catch on the opposite side. This was changed in 1927 such that the hinge was on the side (using the leatherette as the hinge material) and the catch was on the rear corner, as in the example shown here.
The design changed again in 1929 - refer to the notes below.

Production Period:
1925 - 1935
Plate / Film Size:
120 rollfilm (for pictures 2¼ x 3¼)
Lens:
Single achromatic
Shutter:
Simple T & I rotary shutter
Movements:
None
Dimensions (w x h x l):
Date of this Example:
c1927
Serial Number:
None
Availability:

Common
Uncommon
Hard to Find
Scarce

Inventory Number:
373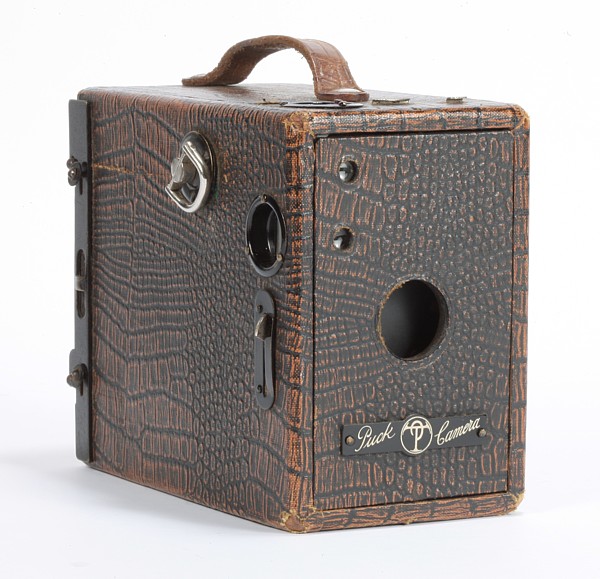 (Image © Amateur Photographer 2010, taken for an article by Ivor Matanle and reproduced with kind permission)
Description
The Puck Camera is a simple box camera for 120 rollfilm. Its distinctive feature is the brown faux crocodile skin effect leatherette covering. It has a distinctive name badge (white lettering on a black background) below the lens opening.
The construction of the Puck Camera is a little unusual in that the side is hinged and swings back to allow the film to be loaded. In fact this construction is also used in two other cameras in my collection: an APeM box camera (finished in black) and an Illingworth box camera (finished in blue). It could be that this camera therefore provides one of the few obvious outcomes of the commercial relationship (an exchange of shares) that existed between Thornton-Pickard and Amalgamated Photographic Materials Ltd., the story of which is summarised in Channing & Dunn [2].
Inside the back it has a label advising to use APeM, Rajar or Paget film (2¼ x 3¼).
The first mention of this camera in the BJPA is in 1926, where it is pictured and described as the "simplest and most delightful instrument to use", identifying schools boys and girls as potential users.
Notes
The edges and corners on these cameras often show wear with the underlying wood showing through. Beware too that the covering forms the hinge and can therefore weaken with use.
While camera of this name was made until 1935, the format shown here was replaced in 1929 by a metal bodied camera covered in black leatherette but with a crackle finish to the front plate and with the more conventional hinged rear panel.