Folding Ruby Camera
Thornton-Pickard Manufacturing Company Ltd
| | |
| --- | --- |
| Name: | Folding Ruby |
| Type: | Hand & Stand Camera |
| Manufacturer: | Thornton-Pickard Manufacturing Company Ltd, Altringham |
| Country of Origin: | United Kingdom |
| Construction: | Mahogany bodied, leather covered hand and stand camera. A range of cameras was produced to compete with the successful Sanderson cameras. It has a range of adjustments on the front standard to give extensive rise and fall, swinging and extending front. Like the Sanderson, it has a spring steel infinity catch on the baseboard and brass bound extension slide. |
| Production Period: | 1906 - 1915 (unconfirmed, but production ceased during the First World War) |
Model / Variant:
Model No 2
Plate / Film Size:
¼ plate
Lens:
Beck Neostigmar f6, serial 150947
Shutter:
Bausch & Lomb "Automat" Everset
Movements:
None
Dimensions (w x h x l):
Date of this Example:
c1913
Serial Number:
No obvious serial on the camera body. 'JM35' stamped into lens board - meaning unknown, but possibly a user marking or perhaps a serial for some specific organisation? #It carries a metal label on top face for 'Masons Photo Stores, Bradford'.
Availability:

Common
Uncommon
Hard to Find
Scarce

Inventory Number:
434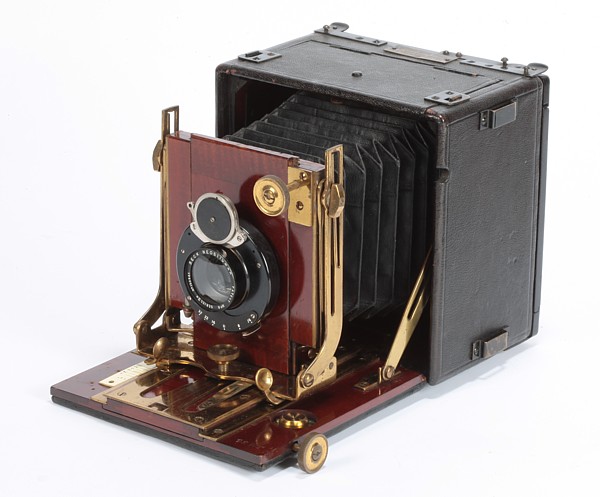 (Image © Amateur Photographer 2010, taken for an article by Ivor Matanle and reproduced with kind permission)
Description
The Folding Ruby is a Hand & Stand folding camera, in this case for ¼ plate. It has a range of movements on the front and rear (the "Omniflex rising, falling, swinging and extending front" according to the catalogue entry). This was Thornton-Pickard's competition to the Sanderson. In 1912, the No 2 Folding Ruby was the same price as the Sanderson Regular in this size (£6 10 0).
This camera is entirely consistent with the advert shown in the 1912 BJPA. It carries a plate on the rear panel identifying both maker and camera by name, although the model is not stated on the plate. From the catalogue entry this is the No 2 model of the Folding Ruby with rack & pinion rise and fall, auxiliary racking baseboard for short lenses. A reversing back is fitted (differentiating it from the superior No 3 model, which is fitted with a swing back).
The camera has a polished mahogany interior and leather covered exterior ("real seal-grain morocco leather"). The camera is missing its bright viewfinder, but otherwise is in very good order. It came with an original canvas case and 3 numbered and labelled ebonised DDS. The ground glass screen is intact.
The leather and brasswork is generally in very good order. The shutter still works.
Notes
The Folding Ruby camera was introduced in 1906, but three models were introduced in 1907.
The No 1 Folding Ruby has the same general format, but is missing the rack and pinion rising front and auxiliary racking baseboard for wide angle lenses.
The No 3 Folding Ruby is almost identical to the No 2, but has a swing back. The advert for the camera in the 1910 BJPA states that the No 3 is further enhanced with a rotating back rather than the standard reversing back; the rotating back is not mentioned in their previous adverts for this model.
Lenses and shutters vary across the models and also across the production period.
The No 2A was of the same form as the No 2 but had a Focal Plane Shutter fitted. The Folding Ruby Unit is again of the same basic form, but differs in one significant detail, namely the addition of the Unit Time and Instantaneous Focal Plane Shutter built into the rear of the body.
This camera was one of several Thornton Pickard cameras pictured in an article written by the late Ivor Matanle for Amateur Photographer (17 April 2010) as part of an occasional series entitled "Icons of Photography". The main camera featured in the article was the Royal Ruby.