Rainbow Hawk-Eye No 2 Box Camera
Kodak Limited
| | |
| --- | --- |
| Name: | Rainbow Hawk-Eye No 2 |
| Type: | Box (Rollfilm) |
| Manufacturer: | Kodak Limited |
| Country of Origin: | UK |
| Construction: | Conventional box camera, covered in leatherette in various colours. The camera divides just behind the viewfinders, with the back section released by two pivoted catches and pulling out the winding key. Removing the rear section then reveals the metal film carrier assembly, allowing the film to be removed / loaded. |
| Plate / Film Size: | 120 rollfilm for pictures 2¼" x 3¼" |
| Dimensions (w x h x l): | |
| Production Period: | To be confirnmed but expected to fall within the period 1929 - 1933 |
The Rainbow Hawk-Eye No 2 box camera was made in a set of colours, in common with many other models in the late 1920s and early 1930s. I have yet to determine the set of colours that were produced by Kodak Limnited but suspect it would have been the same as other coloured box cameras of the period, so likely to be blue, grey, and brown and possibly other colours too.
Model / Variant:
Blue
Lens:
Unknown
Shutter:
Rotary (instantaneous and timed, the latter activated by a pull-up metal strip located on the top face of the camera)
Movements:
None
Date of this Example:
c1930
Serial Number:
None
Availability:

Common
Uncommon
Hard to Find
Scarce

Inventory Number:
629
Description
A fair example of the Rainbow Hawk-Eye No 2 box camera produced by Kodak Limited, finished in blue. The camera name and manufacturer are stamped into the black leather carry handle.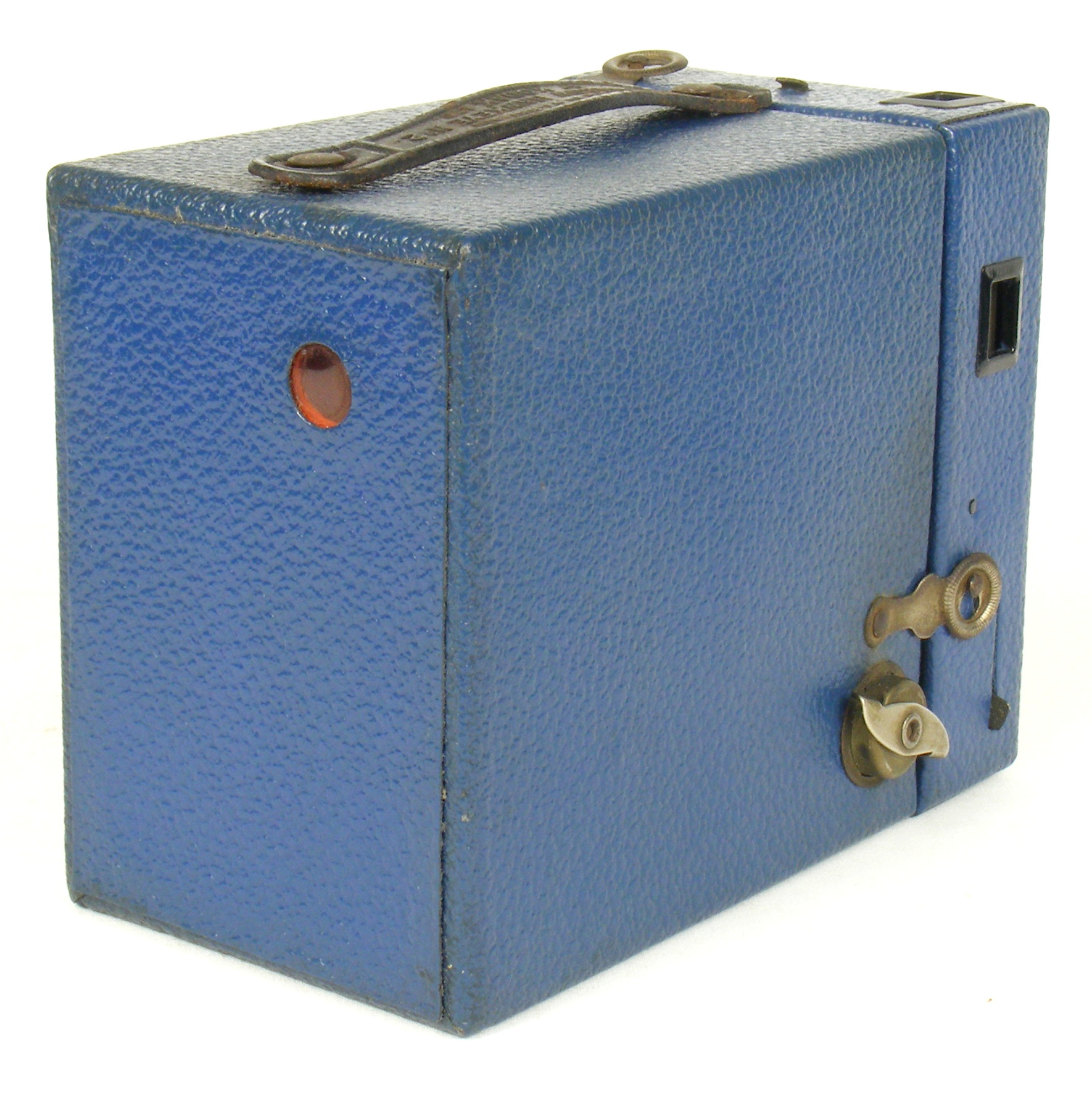 Rather typically of these budget cameras, there is some corrosion and rusting to the nickel plated metal components, notably the release catches. The leatherette covering on the rear section has also discoloured and hasn't improved much with careful cleaning.
Notes
Compare this UK model with the Rainbow Hawk-eye No 2 box camera produced by Eastman Kodak Company in the US. The page for the US model also shows a photograph of the two side by side.
With this camera, the name is shown hyphenated as "Hawk-Eye", while there are many other examples where it is formed as a single word "Hawkeye".