Rainbow Hawk-Eye No 2 Box Camera
Eastman Kodak Company
| | |
| --- | --- |
| Name: | Rainbow Hawk-Eye No 2 |
| Type: | Box (Rollfilm) |
| Manufacturer: | Eastman Kodak Company |
| Country of Origin: | US |
| Construction: | Conventional box camera, covered in leatherette in various colours. The camera divides just behind the viewfinders, with the back section released by two pivoted catches and pulling out the winding key. Removing the rear section then reveals the metal film carrier assembly, allowing the film to be removed / loaded. |
| Plate / Film Size: | 120 rollfilm for pictures 2¼" x 3¼" |
| Dimensions (w x h x l): | |
| Production Period: | 1929 - 1933 |
The Rainbow Hawk-Eye No 2 box camera was made in a set of colours, in common with many other models in the late 1920s and early 1930s. This particular camera was available in blue, brown, green, maroon, vermillion and black. The camera itself certainly looks attractive in its coloured leatherette finish, but the geometric design of the outer box is also a key feature (and sadly one that has often been discarded).
Model / Variant:
Maroon / Model C
Lens:
Unknown
Shutter:
Rotary (instantaneous only)
Movements:
None
Date of this Example:
c1930
Serial Number:
None
Availability:

Common
Uncommon
Hard to Find
Scarce

Inventory Number:
233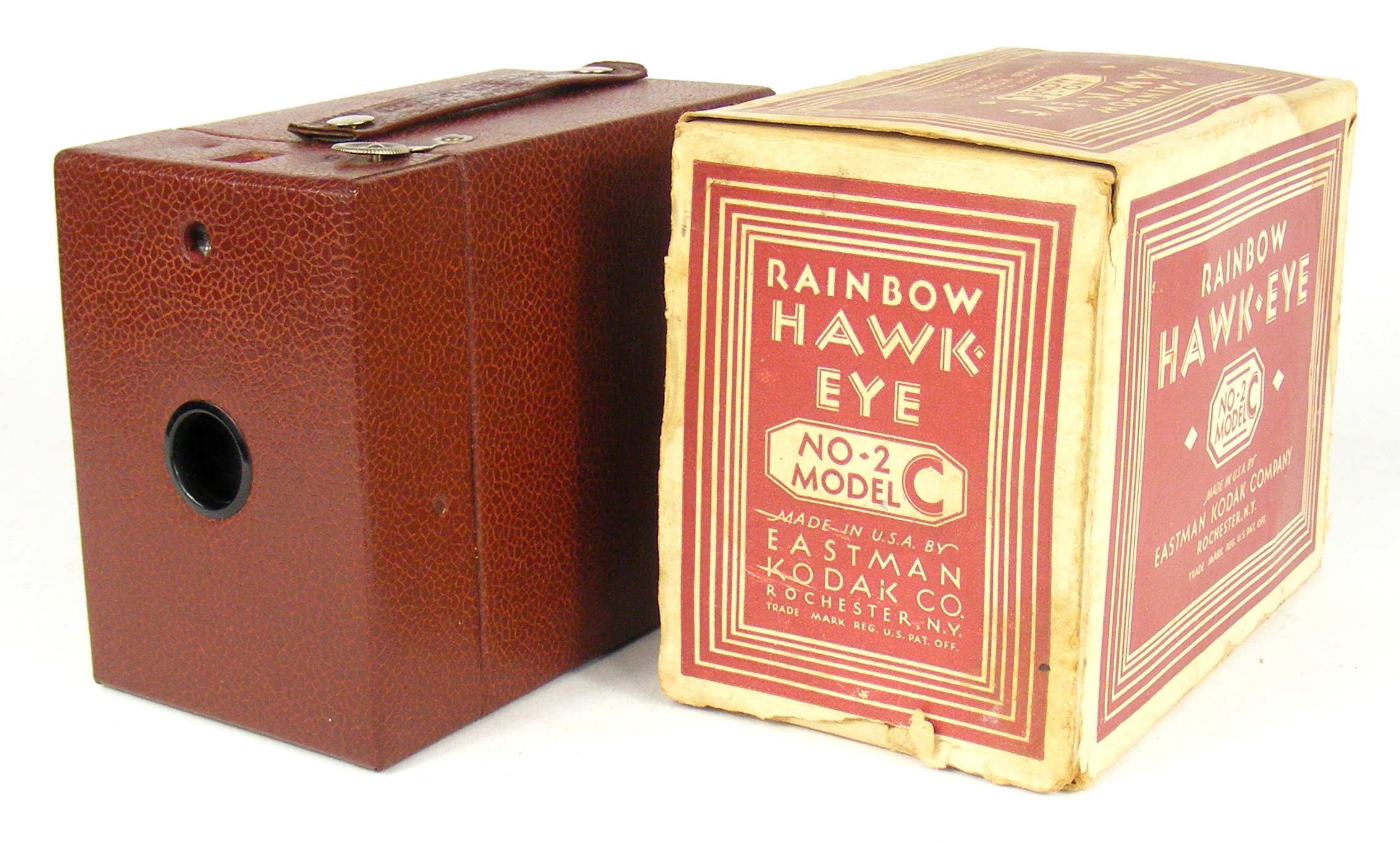 Description
This is a good example of the Rainbow Hawk-Eye No 2 box camera, finished in maroon, with a partially complete box (one end flap is missing, and the other is detached).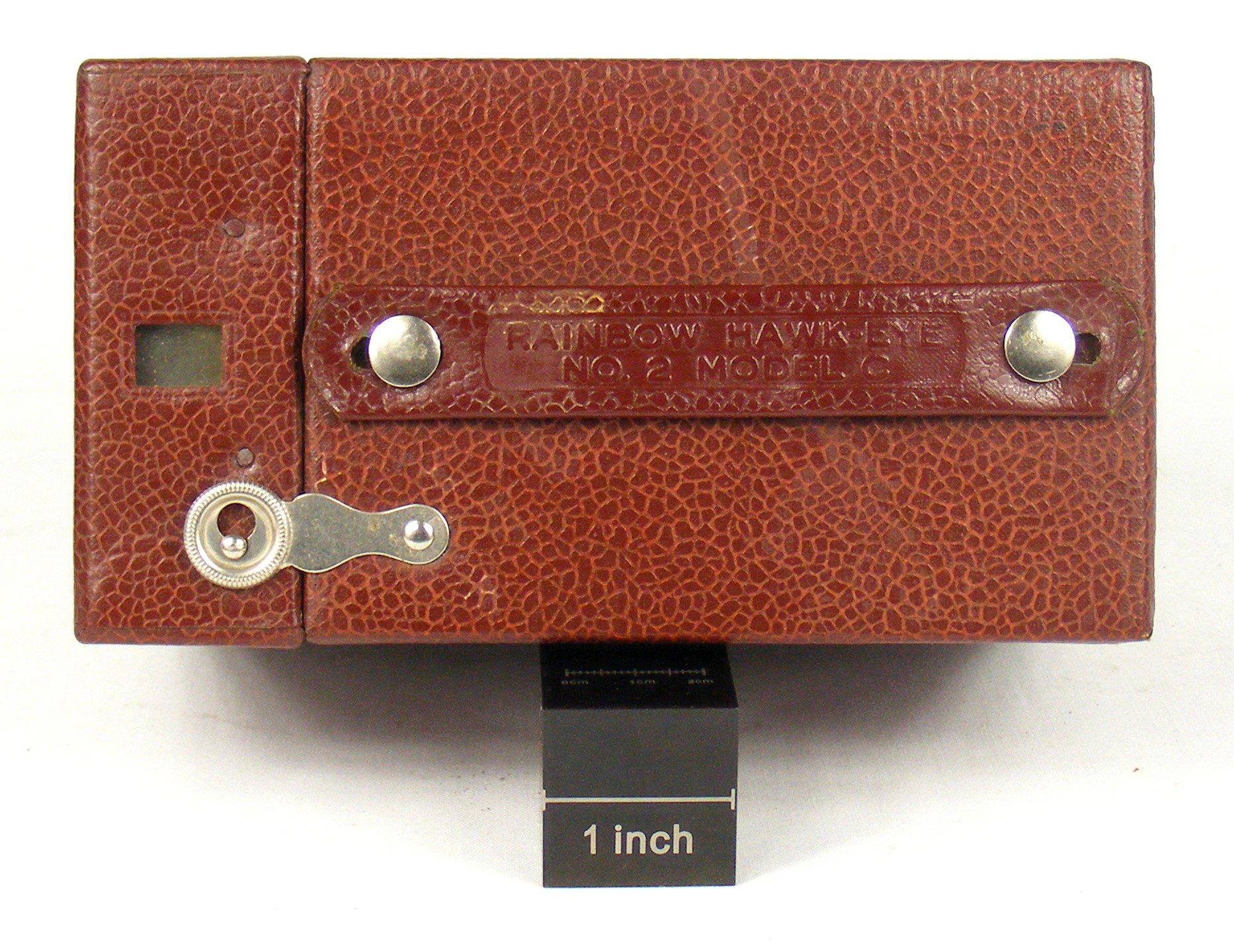 Notes
The Rainbow Hawk-Eye No2 box camera was also produced in the UK by Kodak Limited in a set of colours. The photograph below shows the two side by side. Note the different formats used for the viewfinders, with the US model (maroon) having only a single central viewfinder, while the UK model (blue) has one for each of landscape and portrait alignments. The UK model also has a pull up lever to provide a T setting for the shutter.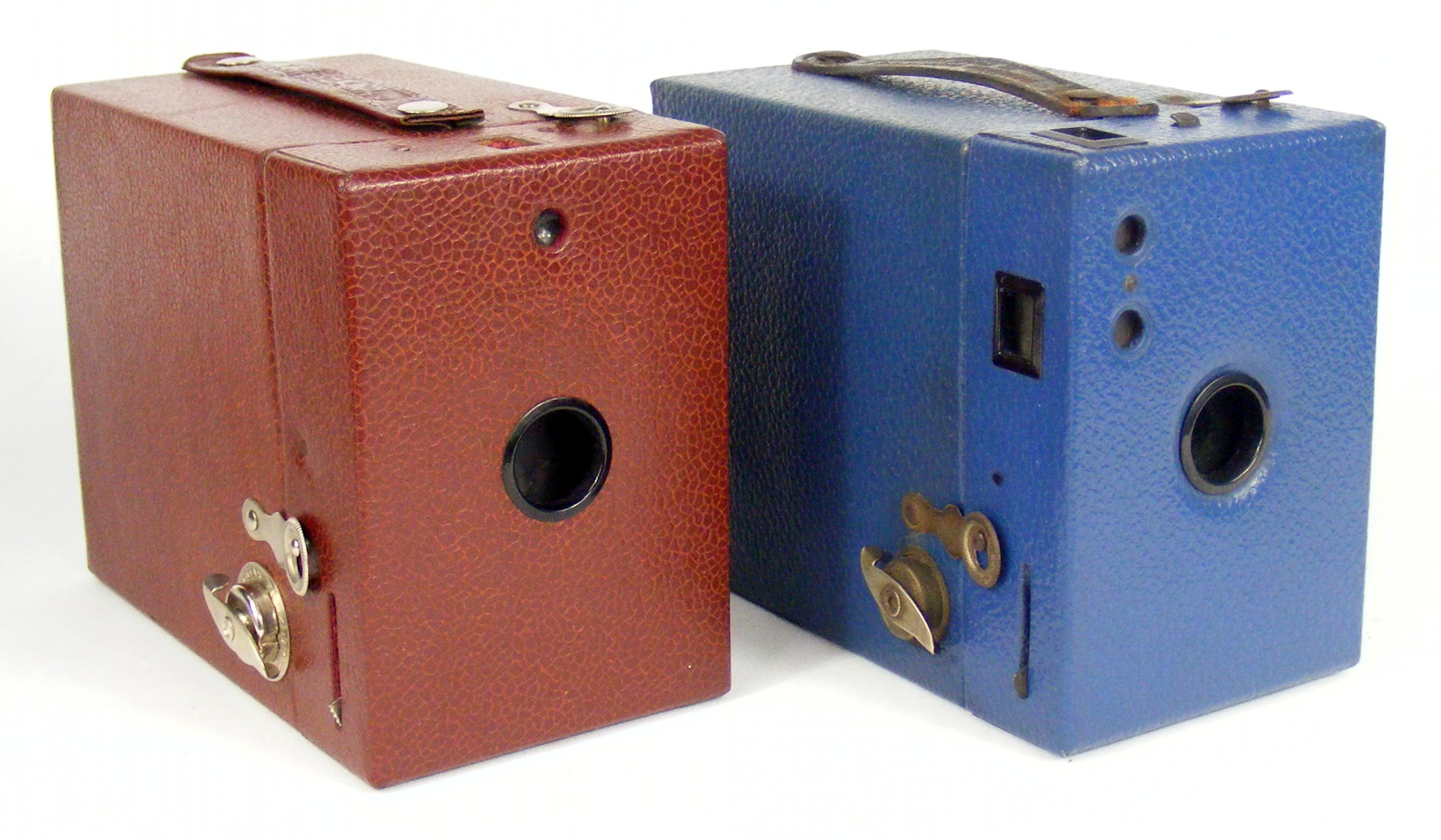 Also compare this camera with the Anniversary Kodak, which is based on the same camera body. Other premium versions exist, such as those produced for the Fox Film Company.