Huttig Atom
R. Hüttig & Sohn, A. G.
| | |
| --- | --- |
| Name: | Atom |
| Manufacturer: | R. Hüttig & Sohn, A. G. |
| Country of Origin: | Germany |
| Construction: | Small self-erecting plate camera. Leather covered metal body. Exists in both vertical and (less common) horizontal formats. |
| Production Period: | 1908 (but continued under Ica after merger in 1909) |
Model / Variant:
Miniature Selfix
Plate / Film Size:
4.5 x 6 cm plates
Lens:
Simple achromatic lens?
Shutter:
Single speed T, B, I shutter (model X according to McKeown [2])
Movements:
None
Dimensions (w x h x l):
Date of this Example:
1908
Serial Number:
None
Availability:

Common
Uncommon
Hard to Find
Scarce

Inventory Number:
104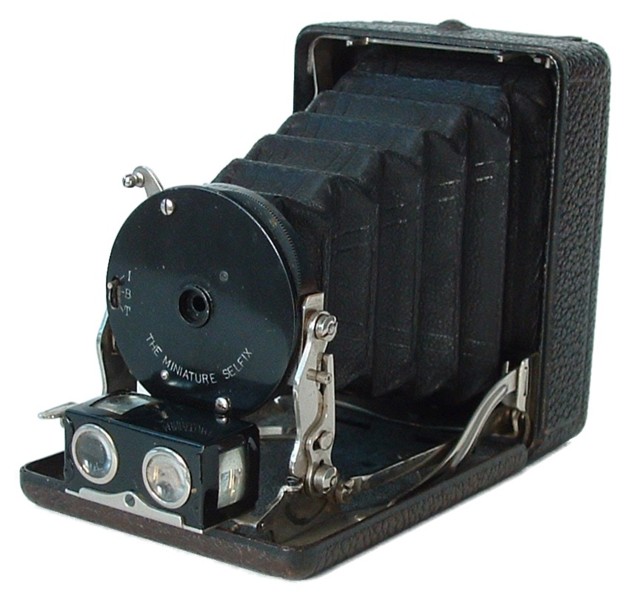 Description
There are no markings on the camera to identify it other than the legend 'The Miniature Selfix', which suggests that it was marketed by Butcher. However the camera is identical to the Huttig Atom; it has twin viewfinders on the front of the lens board that are a distinctive feature. Another Hüttig that I have in my collection was also sold by Butcher under the Selfix name, but is badged as a Lloyd-Cupido.
The leather covered metal body is in good condition. The camera is complete with 3 plate holders and the original screen holder.
Note that the markings on the shutter confirm that it was intended for the English market as the instantaneous shutter setting is marked as 'I' as opposed to 'M' as it would be in Germany.
The camera came to me in an original cloth slip case - but a bit moth eaten!
Notes
Many of the early camera sold by W. Butcher & Sons (Blackheath, London) were imported from Germany. Hüttig was one of their key suppliers; Houghtons had a similar relationship with Krugener. This arrangement continued following the merger of Hüttig and Krügener with other German companies to form Ica, but ceased at the onset of World War One.
The imported cameras sometime carry a name used by the reseller, as in this case, and sometimes also have a badge identifying the reseller by name. However it is not uncommon for neither the original maker or the reseller to be identified.