2¼B Ensignette Junior
Houghtons Limited
| | |
| --- | --- |
| Name / Model: | The 2¼B Ensignette Junior |
| Manufacturer: | Houghtons Ltd. |
| Country of Origin: | United Kingdom |
| Construction: | Bedless strut camera. Leather covered wooden body. |
| Production Period: | Unknown |
Plate / Film Size:
Ensign 2¼B rollfilm (3¼" x 2¼")
Lens:
Achromatic meniscus lens, f11
Shutter:
Simple T & I shutter
Movements:
None
Dimensions (w x h x l):
9 x 19 x 3.5 cm
Date of this Example:
c1914
Serial Number:
No obvious serial on the camera or lens/shutter assembly.
Availability:

Common
Uncommon
Hard to Find
Scarce

Inventory Number:
499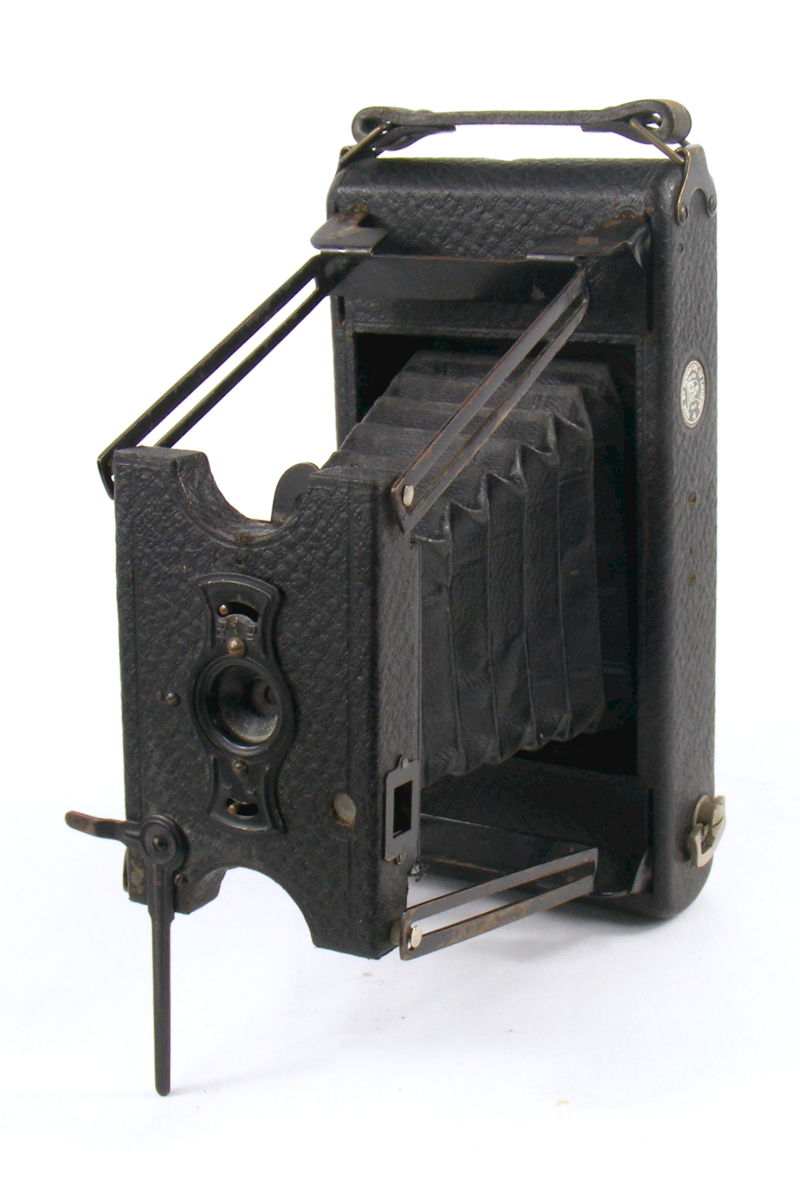 Description
The 2¼B Ensignette Junior camera is a bedless strut camera of simple construction, but with a back that is quite hard to open (press the latches at both ends). A round Houghtons label is located on the top edge, showing the Ensign flag.
The lens panel is reluctant to stay in place when extended! The structure seems much weaker than the equivalent strut mechanism used on the smaller Ensignette cameras.
The camera uses a film carrier to hold the fresh film, similar to the carriers used on the early Ensignettes. The take-up spool fits onto conventional spigots, allowing the winder to engage with the slotted end in the (wooden) spool.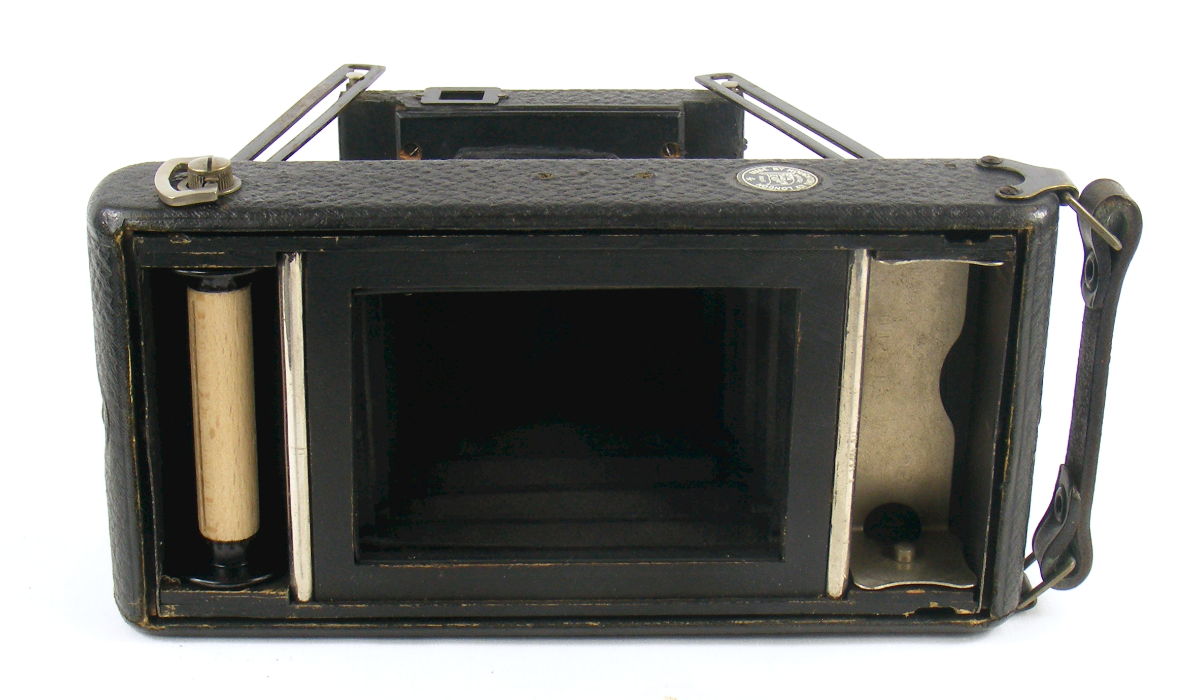 Inside the camera back is a clear label identifying the camera as The 2¼B "Ensignette Junior", with the Ensign flag (in colour) and instructions to the user to use the British made "Ensign" roll films as "they are the fastest and the best".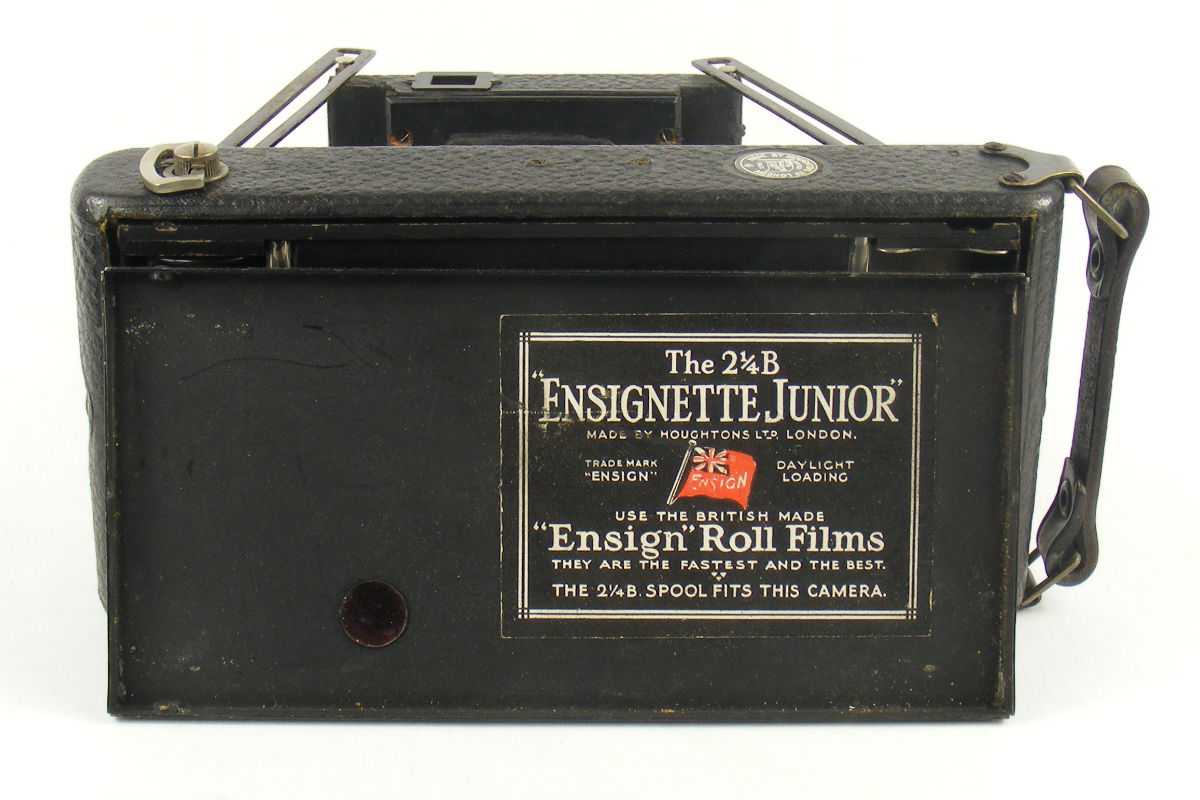 Simple single speed shutter, plus timed exposure. Single viewfinder for landscape format. Double ended support stand fixed to front face allowing camera to be supported in either horizontal or vertical format.
This example is well used, with some scuffing to the leather and paint loss on the black struts.
Notes
Examples of this camera turn up from time to time, but is quite difficult to find one in good condition as the leather covering often shows signs of wear, and the metal components are often rusty, particularly the struts where the black enamel paint has worn away.