Vest Pocket Ensign Camera
Houghton-Butcher Manufacturing Co Ltd.
| | |
| --- | --- |
| Name: | Vest Pocket Ensign |
| Manufacturer: | Houghton-Butcher Manufacturing Co Ltd. |
| Country of Origin: | United Kingdom |
| Construction: | Bedless strut camera, with aluminium body. |
| Production Period: | 1923 - 1931 |
Plate / Film Size:
E27 / 127 rollfilm
Lens:
Single achromatic, f11
Shutter:
Three speed T, B, I (1/20, 1/40 &1/60)
Movements:
None
Dimensions (w x h x l):
12.5 x 7 x 2.5 cm (closed)
Date of this Example:
c1923
Serial Number:
Serial 2191 inside the removable back around film window
Availability:

Common
Uncommon
Hard to Find
Scarce

Inventory Number:
83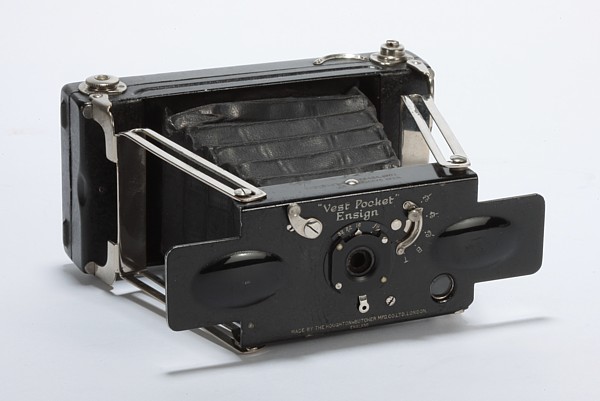 (Image © Amateur Photographer 2011, taken for an article by Ivor Matanle and reproduced with kind permission)
Description
Bedless strut folding camera for pictures 2½ x 1⅝ on 127 rollfilm. Marked as "Vest Pocket" Ensign on front face with Houghton-Butcher Mfg Co Ltd identified as the maker.
Aluminium body, with a enamelled finish. Quite good condition overall, although the film winder key is missing.
Similar design to the Ensignette No 2 but for 127 rollfilm. The name is shown on the top edge of the front, marked as "Vest Pocket" Ensign. This is of very similar size to the Ensignette No 2 (see listings under Houghtons Ltd).
An interesting point here is that this variant of the design adopts a Kodak rollfilm size and by name, directly competes with the Vest Pocket Kodak. The Ensignette variants were a very successful range of cameras based upon British rollfilm formats - so successful that in 1913 Kodak elected to introduce rollfilms to fit the Ensignette range (Kodak film 128 fitted the Ensignette No.1 , while film 129 fitted the Ensignette No.2).
Notes
This variant is uncommon and examples that appear can often be in quite poor condition. The egg shaped raised domes on the front of the aluminium bodied cameras are often quite badly rubbed. This example has survived remarkably well - perhaps it lost its film winder early on its life and therefore was not much used? This is one of the few cameras that can be in better condition when not stored in their case as it seems likely that removal in & out of the case wears away the surface on the raised faces.