Snappa Camera
Thornton-Pickard Manufacturing Company Ltd
| | |
| --- | --- |
| Name: | Snappa Camera |
| Type: | Box Plate Camera |
| Manufacturer: | Thornton-Pickard Manufacturing Company Ltd, Altringham |
| Country of Origin: | United Kingdom |
| Construction: | Unusual wooden bodied box camera, where the front standard pulls out to be held in place by sprung retaining clips on the top and bottom faces, making the camera very compact. The front panel is metal while the body is covered in dark blue leatherette. Nickel plated wings extend on each side of the front face by which to extend the camera. A single viewfinder is built into the section that pulls out. The camera is designed for 4.5 x 6 cm plates or film packs. |
| Production Period: | 1913 - 1916 |
Plate / Film Size:
4.5 x 6 cm plate or film pack
Lens:
Single achromatic
Shutter:
T & I shutter
Movements:
None
Dimensions (w x h x l):
Date of this Example:
c1915
Serial Number:
None
Availability:

Common
Uncommon
Hard to Find
Scarce

Inventory Number:
91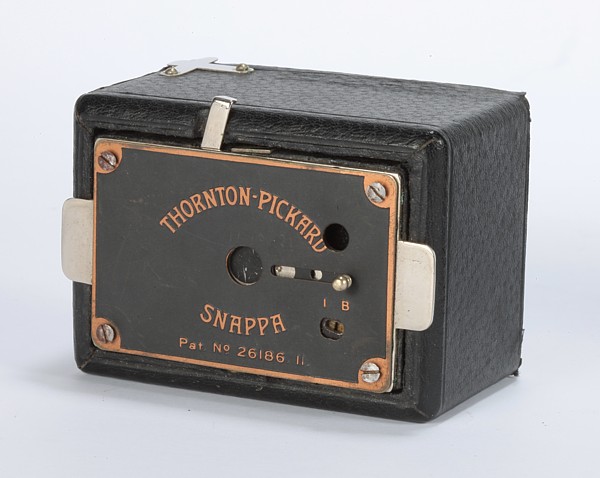 (Image >© Amateur Photographer 2010, taken for an article by Ivor Matanle and reproduced with kind permission)
Description
The Snappa Camera is a relatively simple plate box camera for 4.5 x 6 cm plates or film pack. It is of unusual design as the front telescopes out, to be held in place by spring retaining clips, this making it very compact.
The face plate appears to be of copper, allowing the Thornton-Pickard and SNAPPA names to be picked out in copper through the blue ground. It has chrome 'wings' to use to pull the front section out. It has still has its original ground glass screen and a single plate holder (numbered 1), though the latter is in rather poor condition (rusty, and the velvet light shield has dried out and disintegrated).
The single speed shutter with B setting is fired by a trigger lever on the top edge. Switching between the B and I setting is achieved by an almost hidden lever on the bottom edge that is quite difficult to use!
The camera and box are both marked with patent number 26186.11. One of these cameras (also boxed) was sold at Christies as part of the remarkable Jim Barron collection and the accompanying notes state that this patent was superseded by patent 12607, although this applies to the Limit camera, which was introduced a little earlier (1912 - 1915).
This example came with its original sales carton with labels in good condition and complete. The edges of the box are damaged but intact.
Notes
This camera is quite hard to find - I have only seen a few examples in the time that I have been collecting. The front face plate can be quite worn and beware of examples where the seller has attempted to polish it!
Note that the name 'Snappa' was also used for a folding magazine camera made by Rochester Optical over 10 years earlier.