Sanderson Junior Camera
Houghtons Limited
| | |
| --- | --- |
| Name: | Sanderson Junior Camera |
| Type: | Field Camera |
| Manufacturer: | Houghtons Ltd |
| Country of Origin: | United Kingdom |
| Construction: | Mahogany and brass field camera - the simplest of the Popular range of cameras produced under the Sanderson name as it lacks some of the features of the Regular model, such as a rising front on the lens panel. |
| Production Period: | 1903 - ? |
Plate / Film Size:
½ plate
Lens:
Dallmeyer Stigmatic No 4 Ser II, f 6, F=7-6"
Shutter:
T-P Time and Instantaneous roller blind
Movements:
Rising and tilting front; tilting back
Dimensions (w x h x l):
Date of this Example:
c1907
Serial Number:
Serial 14669 on the lens support; serial 79653 on the lens
Availability:

Common
Uncommon
Hard to Find
Scarce

Inventory Number:
494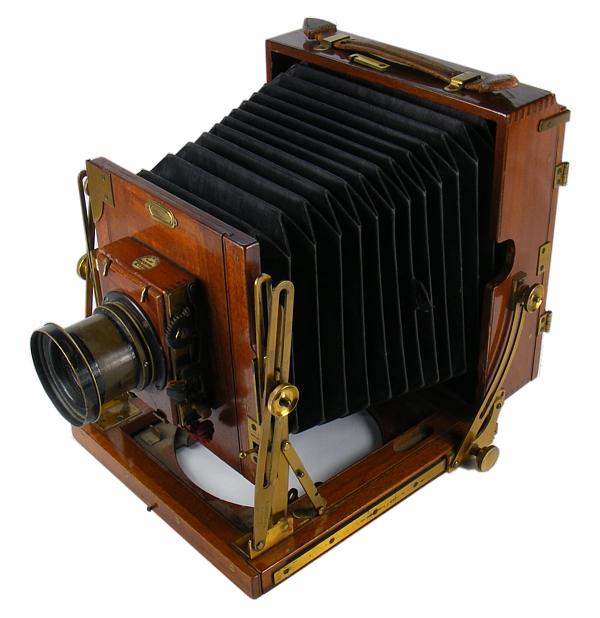 Description
Nice example of the Sanderson Junior field camera. It carries a small brass plate above the lens identifying it as the "Junior" Model, which is of the lozenge shape commonly used by Houghtons, but the Sanderson name does not appear other than in the form of the SANDERSONS PATENT on one of the lens panel support bars (both of which are brass - some earlier examples have the forward set in wood and brass, with the wooden U section hinged at the front of the extending baseboard).
The mahogany is in very good order, with very few surface marks or signs of wear. The brasswork is also generally in very good condition, with little sign of tarnishing.
The camera has chamfered tapered black leather bellows and double extension. It is fitted with a turntable in the base and reversible back. The serial number (14669) leads to the date of 1907, based upon the article "Dating Sanderson Cameras" by Cliff Bulcock, Photographica World 2008/1.
It is not clear if the lens is right for the camera. It is very worn (unlike the woodwork and other brass) and is does not fit the mounting ring on the roller blind shutter - the threads do not seem to match.
The camera came in a lined hide travel case marked with a Sands Hunter retail badge, with black/red cloth, 3 unmatched DDS (one labelled Thornton Pickard) and a second lens panel that appears to be a DIY project.
Notes
The Sanderson Junior was only produced in the ½ plate size.
Note that there can be confusion in the name - the Sanderson Junior is a field camera while the Junior Sanderson is a Hand & Stand camera!