Portrait Hawkeye Star Camera
Kodak Limited
| | |
| --- | --- |
| Name: | Portrait Hawkeye Star |
| Type: | Box (rollfilm) |
| Plate / Film Size: | 620 rollfilm |
| Lens: | Meniscus with portrait attachment |
| Shutter: | Rotary |
| Movements: | None |
| Dimensions (w x h x l): | 8 x 11 x 14.5 cm |
| Manufacturer: | Kodak Limited |
| Country of Origin: | UK |
| Construction: | Conventional box camera with a leatherette covered metal body, twin reflecting finders. The camera divides just behind the viewfinders, with the back section released by two pivoted catches and pulling out the winding key. Removing the rear section then reveals the film carrier assembly, allowing the film to be removed / loaded. The raised pushed bar at top left (viewed from the front) activates the swing-in portrait lens. |
| Production Period: | 1931 - ???? (TBC) |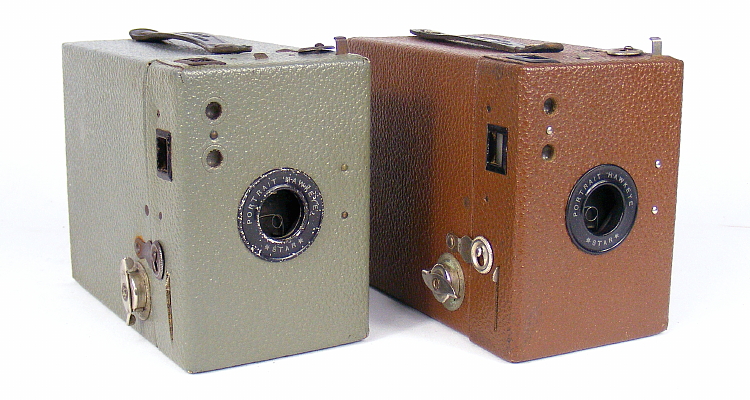 Model / Variant:
Brown
Date of this Example:
c1931
Serial Number:
None
Availability:

Common
Uncommon
Hard to Find
Scarce

Inventory Number:
583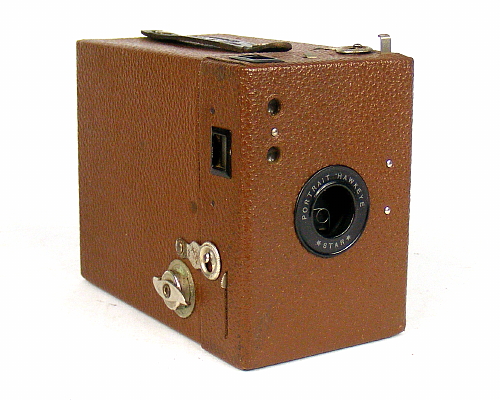 Description
The Portrait Hawkeye Star box camera is of a conventional format, made in relatively cheap materials (leatherette over a cardboard body) but finished in colours rather than black. This example is finished in brown.
This example of the Portrait Hawkeye Star box camera is in good condition, having been stored in its brown canvas case.
# # #
Model / Variant:
Grey
Date of this Example:
c1931
Serial Number:
None
Availability:

Common
Uncommon
Hard to Find
Scarce

Inventory Number:
628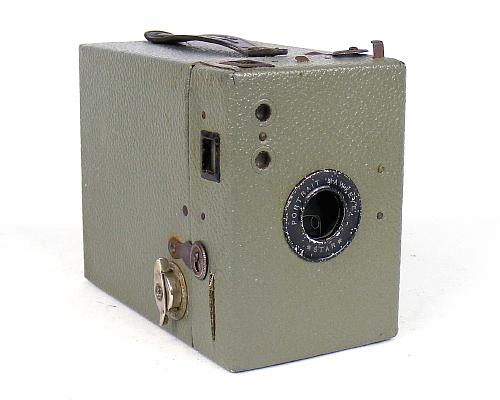 Description
The Portrait Hawkeye Star box camera is finished in grey, but is only in fair condition, with corrosion to the clips and other metal parts. The grey leatherette covering is in good condition, with few surface marks. The name badge around lens opening is corroded, showing spots of white on the black background.
Notes
Since the camera carries the "Hawkeye" name, it seems likely that it was used for premium schemes although I have as yet to find any evidence to confirm this.
The camera takes 620 film, which Kodak introduced in 1931. The Portrait Hawkeye A-Star-A camera is of very similar format, although it has the round winder knob that was typically used on cameras of a slightly later date (from 1931 in the case of the No 2 Brownie). It seems plausible that the A-Star-A replaced the Portrait Star. McKeown [1] also states that the A-Star-A was sold for premium use.