No 3 Kodet Box Camera
The Eastman Company
Name:
No 3 Kodet Camera
Manufacturer:
The Eastman Company
Type:
Box (plate)
Country of Origin:
USA but for sale in the UK
Construction:
Leather covered wood box with Kodet adjustable shutter. The camera was designed for use with plate holders but could also be adapted for rollfilm by using the Kodet roll holder.
Focusing control on the side of the camera. Front panel can be removed to provide access to the lens to adjust the aperture and shutter speed. Two rectangular reflecting finders.
Production Period:
1894 - 1896
Plate / Film Size:
¼ plate
Lens:
Achromatic or Rapid Rectilinear with wheel stops
Shutter:
Kodet, adjustable T & I
Movements:
None
Dimensions (w x h x l):
Date of this Example:
c1896
Serial Number:
Serial 667 in hinge line on front door.
Availability:

Common
Uncommon
Hard to Find
Scarce

Inventory Number:
397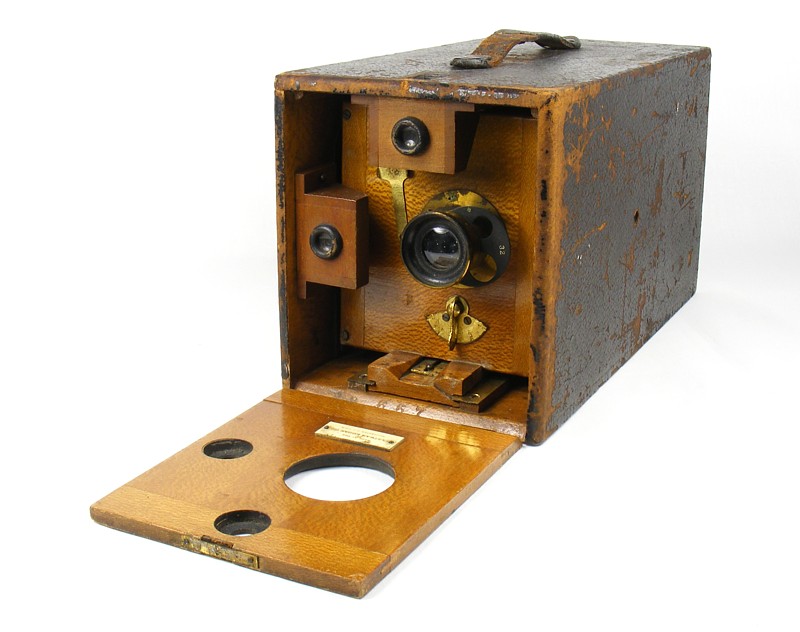 Description
The No 3 Kodet camera is a leather covered wooden box plate camera made in the US for the UK market. The No 3 Kodet is for ¼ plate while the more common No 4 is for 4" x 5" plates. The camera is complete with 3 dark slides and the original viewing screen, although the glass is cracked.
The camera is in well used condition. The leather is dry and has suffered some loss, notably on the underneath. The leather hinge on the side and rear access doors has given way and has been replaced with 'tough tape'.
The focussing adjustment operates, but the lens standard does not move as the small pins (brass?) that fix the slider to the wooden lens standard carriage have fallen out.
According to Coe [4], only 405 of the No 3 Kodet camera were made (as compared to 1413 No 4 Kodets) and yet this one carries serial 667. One of the last and therefore more likely to be the RR lens? The serial number is stamped into the front edge of the body below the focussing rack.
Coe describes it as either mahogany or sycamore covered frame. The wood here is light and has an unusual grain pattern, which suggest it might well be sycamore.
The front of the camera has to be opened to gain access to the shutter settings and to set the aperture using the wheel stop.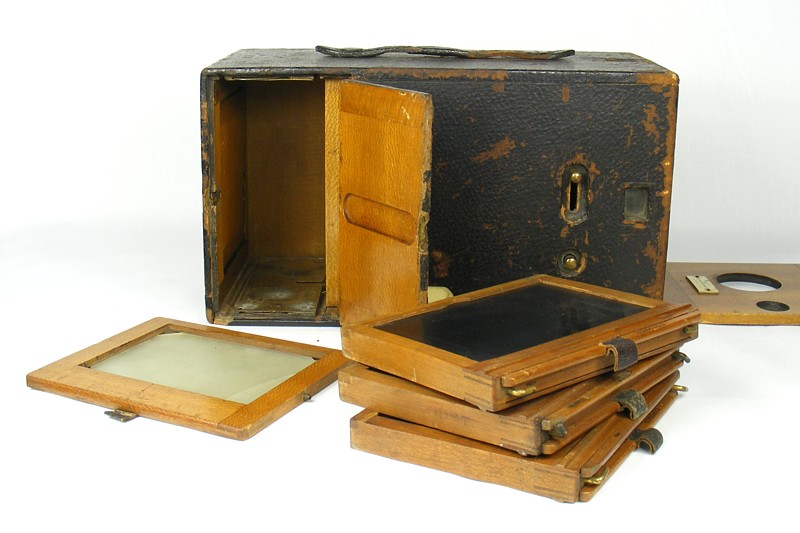 Notes
The No 3 Kodet camera in box form is not listed in McKeown [1], but the folding version is listed as 'rare' (625 made).
This example was bought from a seller in the UK, and based on the limited history known about it, it seems likely that it was originally sold by Kodak Ltd.