No 3 Folding Pocket Kodak DeLuxe Camera
Eastman Kodak Company
| | |
| --- | --- |
| Name: | No 3 Folding Pocket Kodak DeLuxe |
| Manufacturer: | Eastman Kodak Co. |
| Country of Origin: | USA |
| Construction: | This is essentially a No 3 Folding Pocket Kodak but finished to a much higher quality with Persian Morocco covering, brown silk bellows and a silver nameplate. |
| Production Period: | 1901 - 1903 |
Plate / Film Size:
118 rollfilm (3¼" x 4¼")
Lens:
Bausch & Lomb Plastigmat f6.8
Shutter:
Volute (3 - 1/150, B, T)
Movements:
None
Dimensions (w x h x l):
Date of this Example:
c1902
Serial Number:
1760B
Availability:

Common
Uncommon
Hard to Find
Scarce

Inventory Number:
522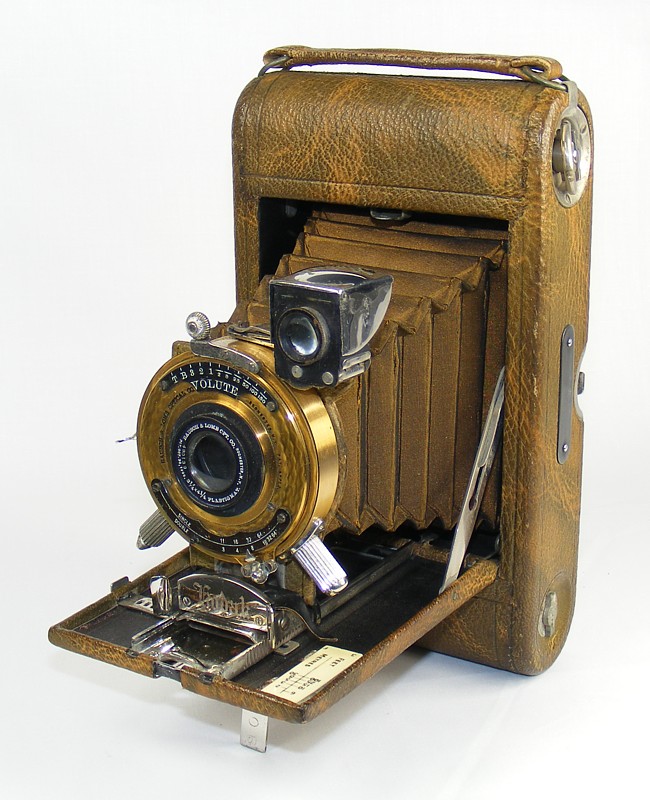 (Image © David Purcell 2011)
Description
The No 3 Folding Pocket Kodak DeLuxe camera is a very scarce variant of the No 3 FPK with superior Persian Morocco covering (brown / tan pattern), polished brass Volute shutter and brown silk bellows.
The leather covering is in exceptionally fine condition. The camera arrived in a strong hide Kodak case, though it does not have silver fittings (noted by Coe [4] as one of the other noticeable differences between this and a conventional model).
This is essentially a modified Model AB (the inside of the back records the model as "MODEL AB.EX".
Notes
This is a stunning camera to look at and probably the most attractive conventional folding camera that I am ever likely to have the pleasure of looking after.
This example was purchased in the US. It is quite unlikely that you will see an example for sale in Europe.