No 3A Autographic Kodak Junior Camera
Eastman Kodak Company
| | |
| --- | --- |
| Name: | No 3A Autographic Kodak Junior |
| Manufacturer: | Eastman Kodak Co. |
| Country of Origin: | USA |
| Construction: | Conventional folding bed camera for 122 film. The autographic back is removable and is J-shaped, with side catches positioned below the centre line. The back has to be removed to load and remove the film. |
| Production Period: | 1918 - 1927 |
The No 3A Autographic Kodak Junior camera formed a companion to the more expensive No 3A Autographic Kodak camera.
Plate / Film Size:
A122 autographic rollfilm (3¼" x 5½")
Lens:
Rapid Rectilinear
Shutter:
Kodak Ball Bearing
Movements:
None
Dimensions (w x h x l):
11 x 24.5 x 4.5 cms (closed)
Date of this Example:
c1922 (see Notes)
Serial Number:
Kodak serial 60161 on support stand and repeated on end of box.
Availability:

Common
Uncommon
Hard to Find
Scarce

Inventory Number:
653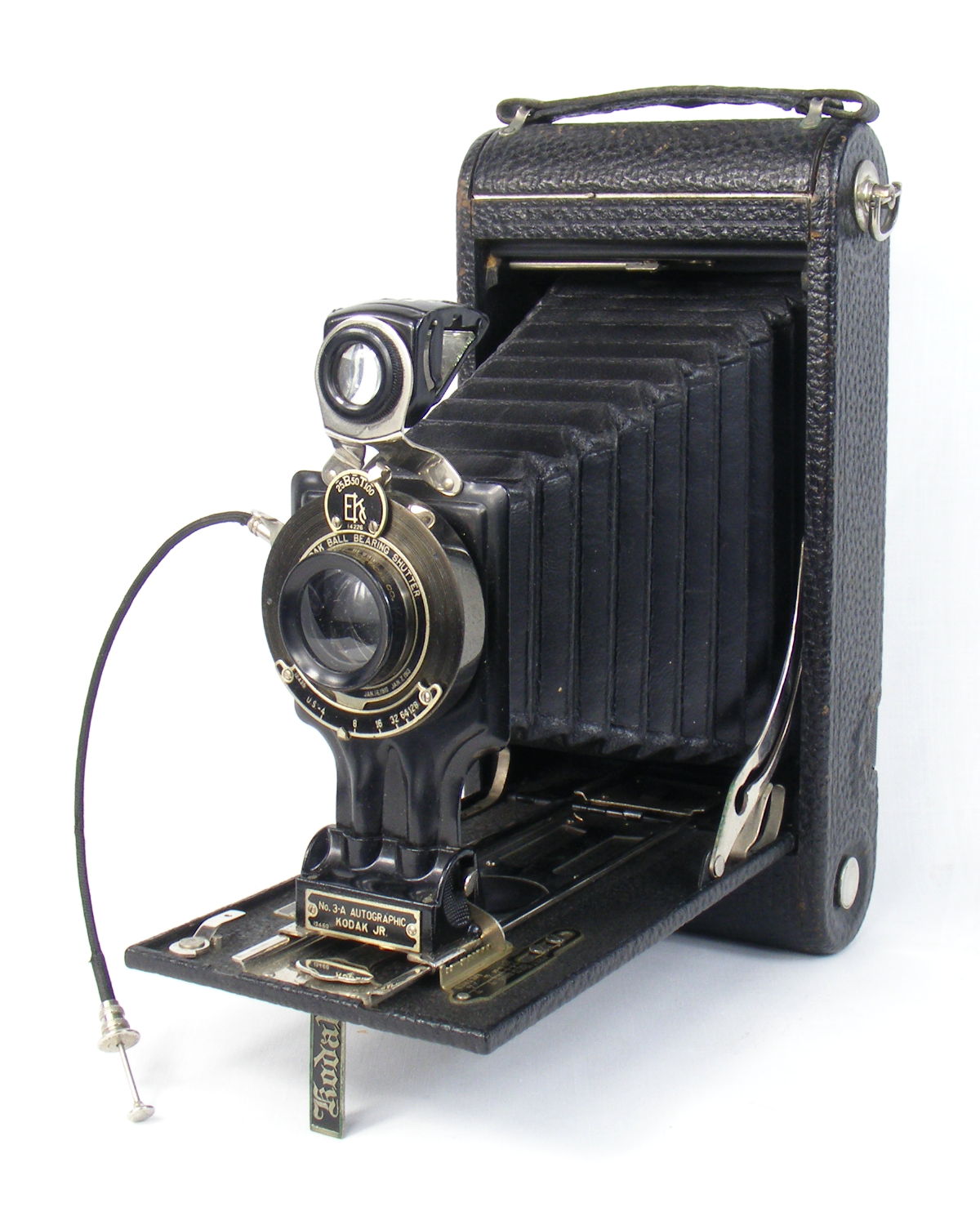 Description
This example of the No 3A Autographic Kodak Junior was made in the period 1918 to 1927. The serial number of this example is 60616, but Coe [4] does not declare the number made, so it is difficult to date the camera from the serial number. According to Coe the Rapid Rectilinear lens was only fitted until 1925.
The camera has black leather covering over a metal body, and single extension black leather bellows. As is clear from its name, the camera is fitted with the autographic feature, with the stylus fitting adjacent to the autographic slot on the rear panel (stylus absent).
A focusing lock is provided on the baseboard as part of the range scale. The camera is equipped with a collapsible viewfinder positioned centrally above the lens. A release cable was included as standard with the camera, which is still intact on this example.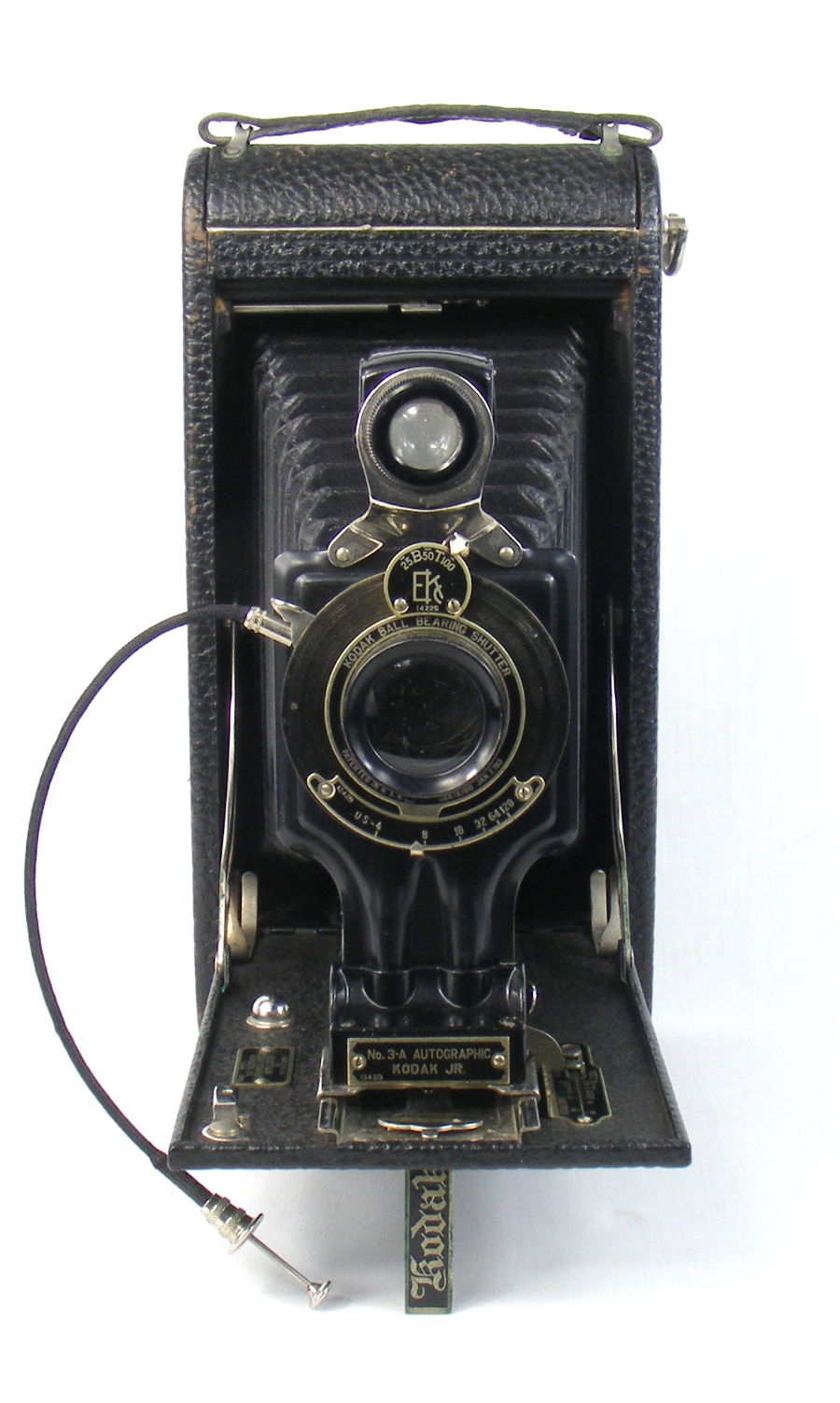 Notes
While similar in form to the No 3A Folding Pocket Kodak and its later replacement, the No 3A Autographic Kodak (same film), this is a simpler camera that was generally equipped with less expensive lens / shutter combinations.
It appears very likely that the No 3A Autographic Kodak Junior was later replaced by the No 3A Pocket Kodak as the date this camera was discontinued matches the date of introduction of the No 3A Pocket Kodak (Feb 1927). The main difference between the No 3A Pocket Kodak and this camera is that the No 3A Autographic Kodak Junior has a removable back, while the No 3A Pocket Kodak has a removable front assembly that separates from the rollfilm back, held in place by a slider on the front face below the hinge line for the fold down front.
Several different lens and shutter combinations were available for this camera over the production period, and other combinations were available as options including an expensive Zeiss Tessar in Compur shutter - rather surprising given the limited features of the camera. It is difficult to imagine that many would have been sold so equipped.