Ensign Model C
Houghtons Limited
| | |
| --- | --- |
| Name: | Ensign Model C |
| Manufacturer: | Houghtons Ltd. |
| Country of Origin: | United Kingdom |
| Construction: | Horizontal pattern film and plate camera, which is a re-badged version of the Krugener Delta-Cartridge-Camera. |
| Production Period: | TBD - c1905? |
Variant:
Plate / Film Size:
No 4 (equivalent to 103 for No 4 Bulls-Eye)
Lens:
Extra Rapid Rectilinear f8
Shutter:
Auto shutter (1/100, 1/80, 1/40, 1/25 & T)
Movements:
Rising and cross front.
Dimensions (w x h x l):
Date of this Example:
c1905?
Serial Number:
Serial #445 stamped into baseboard on the camera; no obvious serial on the lens/shutter assembly.
Availability:

Common
Uncommon
Hard to Find
Scarce

Inventory Number:
537
ClicPic Photos copyright © 2015 David Purcell. Do not use without permission.
Click small picture to enlarge. ClicPic Gallery Software.
Description
This is a large square ended horizontal format folding camera, bearing the name The Ensign Model "C" on the shutter plate.
This camera is a re-badged Krugener Delta-Cartridge-Camera for 10 12.5 (4 x 5") rollfilm and plates. According to McKeown, it also took Krugener's Million sheet film holders. The Krugener name, badge or 'Delta' name do not appear anywhere on the camera.
It has maroon single extension tapered bellows, with chamfered corners. It has a rising and cross front. It is fitted with a viewfinder and a folding frame finder (confirming that this is a late variant of the Delta camera and, according to McKeown, was made from 1898 - c1905). The camera is not listed in McKeown under Houghton, although a similar Model D is listed.
Notes
When I was sorting through a number of cameras to take photographs, I came across an early Busch Cycam camera and quickly realised that this has a very strong resemblance to this camera. Many early Houghtons rollfilm and plate cameras were imported from Germany, under arrangements with companies such as Krügener. The two cameras are shown side by side in the photograph below.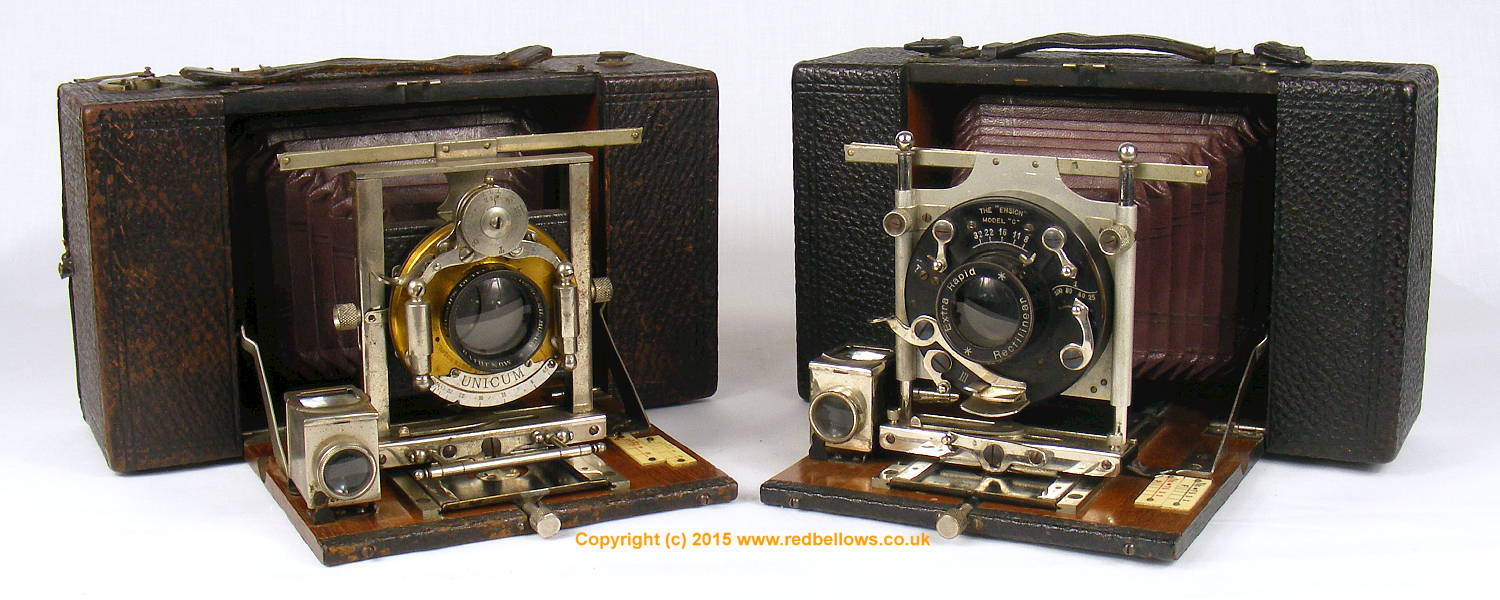 If you have any further information about this camera, in particular any reference to it in catalogues or contemporary literature, please contact me.