Maxim No 1 Box Camera
W. Butcher & Co.
| | |
| --- | --- |
| Name: | Maxim No 1 Box Camera |
| Manufacturer: | W. Butcher & Co. |
| Country of Origin: | United Kingdom |
| Construction: | |
| Production Period: | 1903 - 1920 |
Plate / Film Size:
Ensign 2¼A or No 1 Brownie Film
Lens:
Unknown
Shutter:
Simple instantaneous shutter
Dimensions (w x h x l):
Date of this Example:
Not known
Serial Number:
Serial number that might be 127 stamped inside on film carrier. This might be a manufacturing batch number rather than a unique serial.
Availability:

Common
Uncommon
Hard to Find
Scarce

Inventory Number:
337
Description
Basic box camera for 2¼" square pictures. The fold over card inside the camera that goes over the film when loaded identifies the film as Ensign 2¼A or No 1 Brownie Film.
The camera is in very good condition, with only very minor signs of age and use. The round Butcher decal is very clear on the front face "Butchers Famous | Maxim | British Made". The handle is intact and is embossed "No 1 Maxim".
The condition would suggest that this might be a late model, but it is as yet unclear how this might be verified.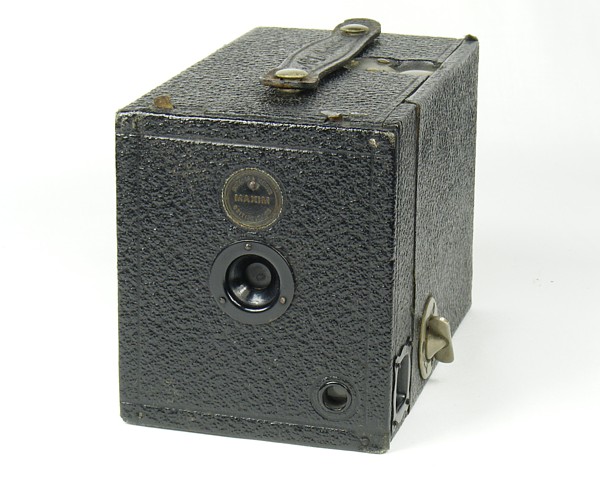 Notes for Collectors
The Maxim came in several different model numbers (4 known), each corresponding to a different film size, of which the No 1 was the smallest. The camera was intended to compete with the Kodak Brownie camera (as evidenced by the declaration on the inside of the camera that it could use 2¼A or No 1 Brownie film).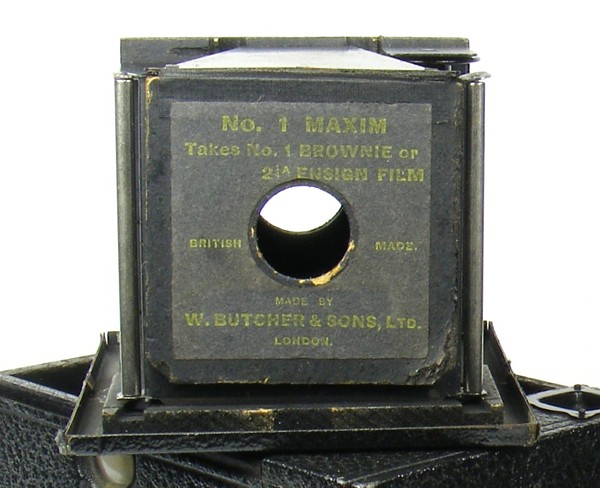 This camera is very similar in form to an early Ensign Box-Form camera sold by Houghtons, suggesting that the same camera body may have been retailed by both. The two cameras are shown side by side below.