Brown's Patent Combination Camera
Brown J. E.
| | |
| --- | --- |
| Name: | Combination Camera |
| Manufacturer: | J. E. Brown |
| Country of Origin: | United Kingdom |
| Construction: | Field camera of spanish mahogany with brass fittings, dovetail joints. Leather, square cornered bellows. |
| Production Period: | ? |
Plate / Film Size:
½ plate
Lens:
Cooke Series IV 5 x 4 Lens, f5.6, F6.2" (with lens cap), serial 25354
Shutter:
None
Movements:
Rising front; reversible back.
Dimensions (w x h x l):
Date of this Example:
c1890
Serial Number:
No obvious serial on the camera body.
Availability:

Common
Uncommon
Hard to Find
Scarce

Inventory Number:
493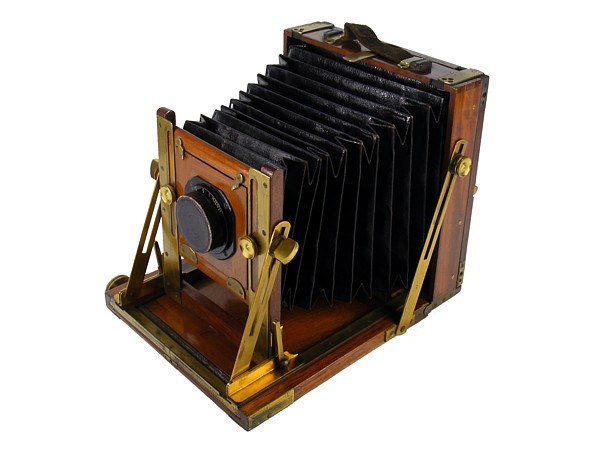 Description
A very good example of Brown's Patent Combination Camera, in ½ plate format with a TT&H Cooke lens. The camera & makers name is shown on a name plate on the rear of the camera. The camera came with two numbered but otherwise unmarked ½ plate DDS.
The camera is in good condition, with some wear to the brasswork and a large crack in the baseboard close to the tripod bush. It has square section double extension taper bellows that are a very dark maroon colour and with only very minor corner damage. This model has a reversible back.
The patent (2496/1885) refers to a hinged and rising lens panel design. It has an interesting mechanism for latching the front lens standard in place with two side levers that lift to lock the panel in position by virtue of a cam at their base that clamps the bottom of the lens support to the side rail.
The camera is well made in mahogany, although interestingly it does not follow the convention found on many well made cameras of the same era of aligning the screw heads. The lens panel has to be removed for storage and it is a bit fiddly to take in and out of the slot - beware!
Notes
I have only seen a few examples of these cameras over the last ten years or so; this example came from Germany.