Presentation Frena No 0
R. J. Beck Ltd
Name:
Presentation Frena No 0
Manufacturer:
R. J. Beck Ltd
Country of Origin:
United Kingdom
Construction:
Deluxe version of the Frena box camera, covered with brown calves leather with polished brass fittings, for notched celluloid film sheets.
Production Period:
1901 - ?
Click on the thumbnail on the left to open a large picture in this window.
(Use the Back button to return).
Other detailed photos are provided further down this page.
Model / Variant:
No 0 (Memorandum)
Plate / Film Size:
Cut film (celluloid) 3½ x 2⅝
Lens:
Rapid Rectilinear
Shutter:
Rotary
Movements:
Dimensions (h x l x w):
Date of this Example:
c1901
Serial Number:
Serial 10628 on the winder mechanism.
Availability:

Common
Uncommon
Hard to Find
Scarce

Inventory Number:
393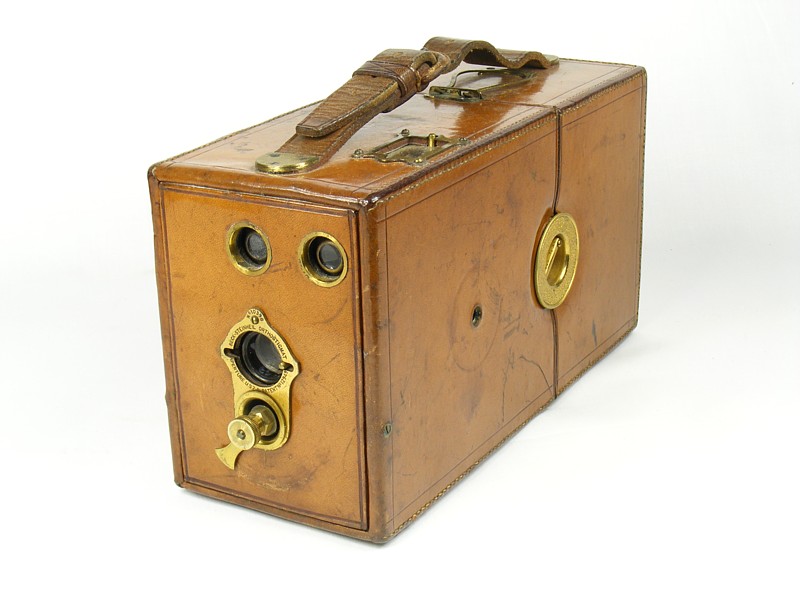 Description
Deluxe version of the Frena box camera, referred to as the Presentation Frena, covered with brown calves leather with polished brass fittings, with carrier for notched celluloid film sheets. This particular example is the Presentation Frena No 0, the smallest size taking pictures 3½ x 2⅝" in size. The camera is in very good order, though it is as yet unclear whether the shutter works or not. The leather covering has been well protected by the original case and shows only limited wear from use on a tripod.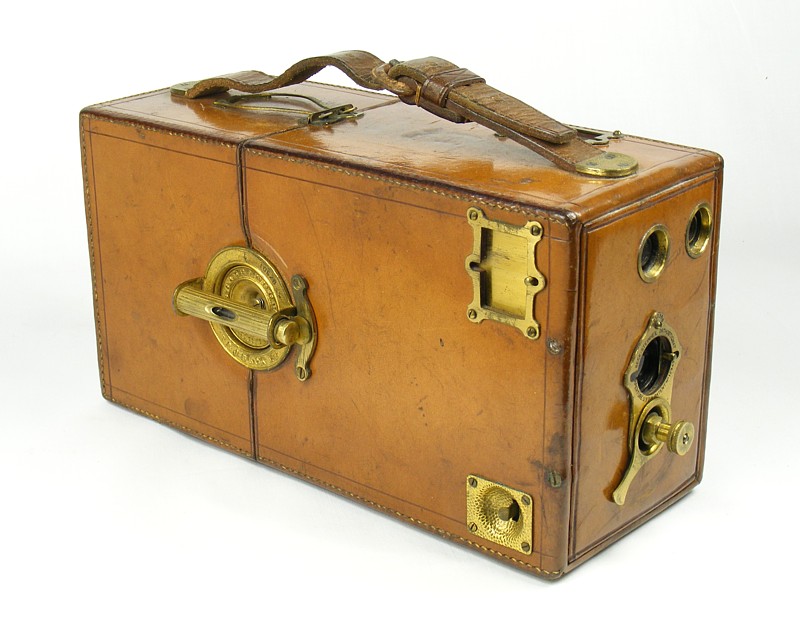 It is difficult to determine the age of this example. This size was introduced in 1901, and this may be an early model. The belt handle is intact and in good order.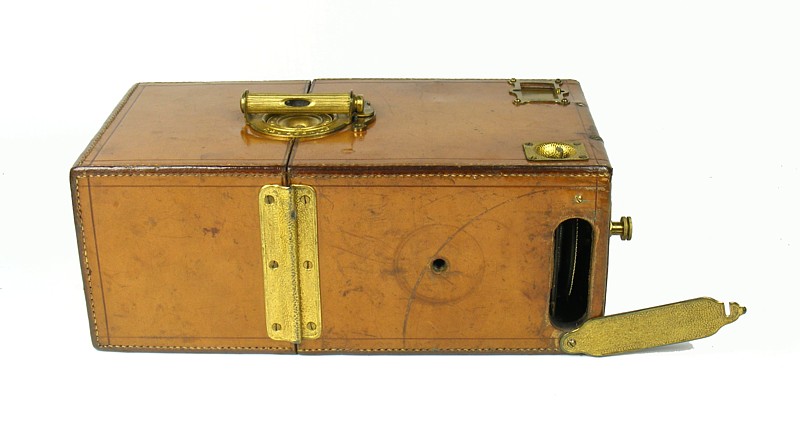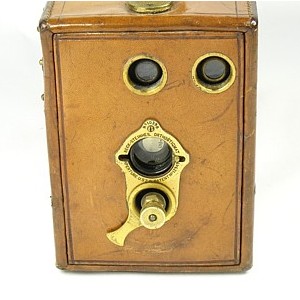 The picture above shows the underside of the camera, with the cover opened show how the method of access to the speed setting dial. The picture on the left shows the lever setting in the lens surround that sets the aperture and the knob used to prime the shutter.
The camera came with its original thick leather fitted case, with (empty) pockets for magnifiers and a tripod mount, which is still present. The case is embossed on the lid. It has taken some wear and tear over the years and has lost its strap. One of the leather fittings for the strap has come away, but is inside the case. The hinge is a little weak, splitting at one end.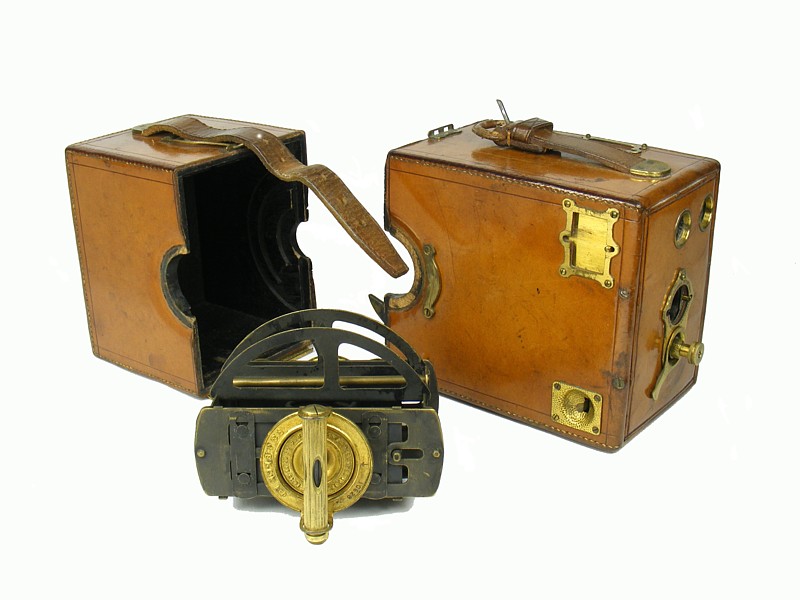 The picture above shows the camera halves separated and the film cradle removed. This assembly holds the special notched sheet film that was used in the Frena cameras. The camera could hold up to 40 films at a time. Exposed films were deposited in the back of the camera for subsequent removal in a darkroom.
Notes
Not surprisingly, the Presentation Model appears fair less often than the conventional leather covered version, with perhaps one coming up in online auctions every one to two years. The condition can vary quite widely; as with many other cameras it is often better to wait for an example complete with its original case as this should ensure that the leather covering is in good order.